Pharrell Williams to headline #DXBNYE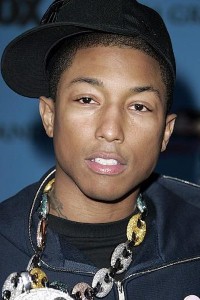 Pharrell Williams, the singer behind one of this year's biggest songs, will be heading to Dubai next month to headline the emirate's biggest ever New Year's Eve.
Busta Rhymes, Paul Oakenfold, Dimitri Vegas and Like Mike will also be on the bill for #DXBNYE on December 31st.
The show, which will take place at Dubai's Meydan Racecourse, will be broadcast to 130 countries across the globe.
Other acts confirmed for the extravaganza include Charli XCX, the LMFAO alumni SkyBlu and the DJ Seb Fontaine.
Pharrell - who is the first performer since The Beatles to score three number ones hits in the UK with Daft Punk's Get Lucky, Robin Thicke's Blurred Lines and his own Happy - is one of the world's most in-demand acts.
However, at #DXBNYE he will be sharing the limelight with other critically-acclaimed artists, including Greek DJ duo Dimitri Vegas and Like Mike, who will be making their UAE debut at the party on the back of ranking second in DJ Mag's influential Top 100 DJs poll.
DJ Paul Oakenfold - an industry veteran who has worked with a host of big names, including Madonna and the Red Hot Chili Peppers - will be returning to Dubai after headlining last year's Sandance NYE.
He let his fans know about the gig by tweeting: 'NYE is the ultimate gig for any DJ, and I can't think of a better place to celebrate than Dubai. #DXBNYE, are you with me?'
Charli XCX, the voice behind Icona Pop's I Love It and Boom Clap, the soundtrack to one of this year's most popular films The Fault in Our Stars, will be returning to Dubai for the second year running after performing at 2013's Sandance.
British house DJ Seb Fontaine will take the stage during the eight-hour bash, which he described to fans as 'best New Year's Eve party Dubai has ever seen'.
Dubai's Meydan Racecourse will provide the setting for the #DXBNYE party, offering revellers views of the Burj Khalifa fireworks display at midnight. Tickets range from AED395 (£68.65) to AED1,695 and are available to purchase now.
The emirate's hotels will benefit greatly from the event, with party-goers boosting occupancy rates over the festive period. A spokesperson for the Jumeirah Group told The National that rooms are already being filled up, so anyone intending on heading to Dubai for New Year's Eve needs to book something quickly.