Pet-only hotel heading to Dubai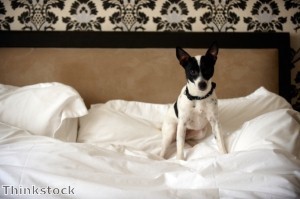 A hotel exclusively for dogs and cats will be open in Dubai in March next year.
Costing around AED 54.1 million (£8.9 million), the facility will cater for 50 furry friends at a time.
It will include various services, such as grooming rooms, laundry services, therapy sessions and playgrounds. Vets will be onsite and pet owners can check-up on their companions through the internet if they need to.
Additionally, a birds and pets market will open alongside the hotel. This will be at least three times the size of the current animal markets in Dubai.
Dubai Municipality's director of assets management department Khalifa Hareb said: 'We hope the project will boost both trade and tourism in the shade of a new sophisticated bird market in Dubai.'
Of course, the hotel is exclusive for canine and feline jet setters, so human owners will still need to find their own accommodation. Yet it allows pet owners, that may otherwise not want to leave their pet at home, to bring their best friend with them. While some hotels may allow pets, it still limits what visitors can do during the day, whereas the new facility lets owners drop their four-legged companion off for when they need to.
Animals may not be the first thing people think about when considering Dubai as a holiday destination but, if there's one thing the emirate is good at, it is adapting to all walks of life.
For example, an expert dog trainer from Kerala is heading to Dubai to help domesticate various wild cats species, such as cheetahs.
While owning these animals is illegal in the emirate, recent law changes did not stop pre-existing owners from keeping their eccentric animals.
Nonetheless, Christo Babu, the founder of Wolf N Pack Dog Training and K9 Security Services is hoping to set up a shop in the city. This will likely be in the form of a boarding and training centre for big cats, although many people would welcome his dog handling talents as well.