Personalising Expo 2020 Dubai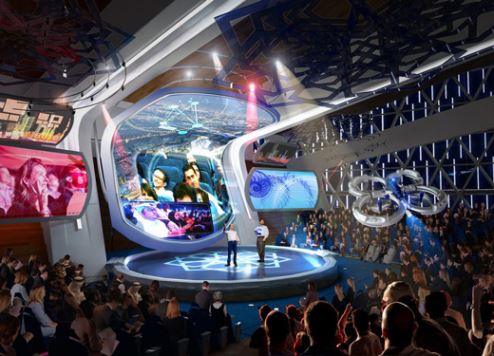 How Dubai aims to create tailor-made experiences for event visitors
Today's consumers expect personalised experiences across every touchpoint. When they make purchases, they expect retailers and suppliers to know their personal preferences and make purchase suggestions; when they travel they expect airlines and hotel to know their favoured seat or room, their time of travel or stay, and what they like to eat and drink; and when they attend events, they believe the organiser should make that experience personal in some way, through engagement techniques, most often using their smartphones, or increasingly, their wearable devices.
Expo 2020 Dubai is embracing this trend and has signed SAP, a global leader in innovative software solutions, as its first international Premier Partner, with a view to the company supporting the delivery of personalised experiences to the 25 million visitors the six-month-long event is expected to attract.
As Expo 2020 Dubai's newly appointed Innovative Enterprise Software Partner, SAP will work to develop real-time technology platforms that enable organisers and exhibitors to instantaneously analyse data to identify visitor trends. These insights will be used to help tailor each visitor's experience to their preferences.
This could enable visitors arriving at Expo 2020 Dubai to be informed of the quickest route to their preferred pavilions with suggested stops on the way, or being directed to see the latest virtual reality advances because they are technology enthusiasts.
To achieve this, SAP's innovative real-time technology solutions have the potential to transform transactions and analytics leading up to Expo 2020 Dubai into insights that inform and inspire action.
Such insights will not only help Expo 2020 Dubai to satisfy individual needs but also ensure a tailored experience across all parts of their Expo journey, including hospitality, transportation and telecommunications.
His Highness Sheikh Ahmed bin Saeed Al Maktoum, chairman of the Expo 2020 Dubai Higher Committee, says the partnership will help deliver an exceptional experience for each Expo visitor.
"SAP has a long track record of providing trusted, best-in-class enterprise solutions that are essential to the planning and operations of Expo 2020 Dubai," Sheikh Ahmed explains.
"We are building a tremendous base of technology enablers that collectively provide thoughtful, connected experiences. SAP will help us be smarter, more innovative and more efficient in our approach to providing exceptional experiences along the journey to Expo as well as during the event."
Expo 2020 Dubai is expected to run more than 20 real-time solutions on the SAP HANA in-memory platform and the SAP S/4HANA real-time business suite.
SAP SE CEO Bill McDermott says the partnership will add to Expo 2020 Dubai's credentials as a cutting-edge 'mega event', showcasing the latest technologies to a global audience supported by more than 180 countries.
"SAP's enduring vision is to help the world run better and improve people's lives," he says. "The opportunity to co-innovate with Expo 2020 Dubai strengthens SAP's position as the world's digital business platform.
"Millions will travel to one of the smartest cities in the world to feel the power of breakthrough innovation.
"With SAP's global scale, we are proud to help support Expo 2020 as the most technologically advanced and inspirational mega-event in the world."
The agreement with Expo 2020 Dubai is the latest partnership between SAP and UAE public and private-sector organisations. SAP also supports the development of knowledge and skills in the region through the Dubai-based SAP Training and Development Institute.
SAP will also leverage experience from its Future Cities programme, which works with more than 4,500 local government authorities, including Barcelona, Cape Town and New York, to find innovative technological solutions before and during the Expo.
The Expo 2020 Dubai Higher Committee will be announcing further key partnership deals in technology and in other areas soon, as it continues to gear up for the big event, which will kick off in October 2020.
Last year, UAE telecoms and technology service provider Etisalat was awarded the Telecommunications and Digital Services Premier Partnership for the event.
The deal aims to ensure the Expo site will be one of the fastest, smartest, and best-connected places in the world during the event.
Etisalat will be involved in creating the infrastructure for the Expo site – enabling Expo 2020 Dubai to provide visitors and participants with a cutting-edge, immersive digital experience that brings the Expo themes to life.
Etisalat will also provide on-site Wi-Fi services capable of providing connections for up to 300,000 visitors to the site each day.
"Communications that took six weeks in 1851, when the first Expo took place, now take six microseconds," says Her Excellency Reem Al Hashimy, UAE Minister of State for International Cooperation and director General Bureau Expo Dubai 2020.
"Ours is a hyper-connected age, and Etisalat plays a critical role in linking people and their technology so that they can connect and share, innovate and create. With its international reach, and expertise, Etisalat is well placed to support us in making Expo 2020 Dubai the best-connected site on Earth during the mega event."