Passengers passing through Dubai International to grow to 200m by 2030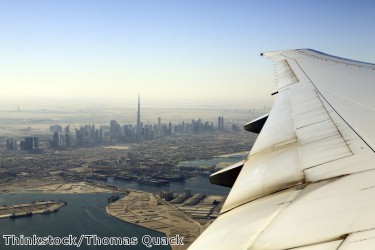 Dubai International Airport will handle 200 million passengers every year by 2030, according to its operator.
Paul Griffiths, chief executive of Dubai Airports, said the organisation has revised its original estimates due to refurbishment works - costing $7.8 billion (£5.3 billion) - pushing the hub's capacity to 100 million passengers a year.
It now expects the number of travellers passing through its doors to grow from 103 million in 2014 to 126 million by 2020, rising to 200 million by 2030.
Mr Griffiths added that Dubai Airports has adopted a business vision that will transform the hub from just an airport to an engine of economic growth that is vital to the emirate.
"Our revised projections for 2020 - was 103 million - now exceed 126 million passengers. By 2030, we expect to have around 200 million passengers traffic, without further infrastructure development or space to build," Mr Griffiths explained.
He made his comments at the Future of Border International Conference during the 'Building the Future' presentation, adding that Dubai Airports was ready to find solutions to satisfy the emirate's increasing thirst for growth.
"In Dubai, we are building, not talking about building," Mr Griffiths remarked.
The conference was organised by the General Directorate of Residency and Foreigners Affairs in Dubai and sponsored by Sheikh Ahmed bin Saeed Al Maktoum, president of Dubai Civil Aviation Authority, chairman of Dubai Airports and chairman and chief executive of Emirates Airline.
Dubai International is currently the world's number one airport for international passengers and ranks sixth in terms of overall busyness.
Al Maktoum International Airport, which can currently handle seven million travellers, saw 845,046 people pass through its gates in its first full year of operations. It will soon be expanded and able to handle 220 million passengers every year, making it the world's biggest airport.
In 2013, aviation contributed $26.7 billion to Dubai's economy, equating to 27 per cent of the emirate's gross domestic product. By 2030, Mr Griffiths believes this will more than treble, rising to $88 billion.