​Passenger traffic up 7.5% at Dubai International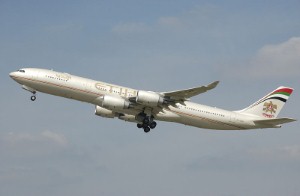 ​Tourists and business travellers are continuing to flock to Dubai as regional airlines expand their networks and the government works hard to attract even more visitors.

Dubai International said traffic statistics issued by operator Dubai Airports show that passenger traffic was up 7.5 per cent last month, with 6.3 million people passing through the hub.

This takes the passenger numbers for the first quarter of 2014 to 18.4 million, which is an 11.4 per cent rise on the 16.5 handled during the first quarter of 2013.

It means that Dubai International has overtaken London Heathrow to become the busiest airport in the world, demonstrating the emirate's standing as a global economic hub.

'The growth in passenger and freight traffic supports our continued investment in expanding and improving our facilities at Dubai International,' said Paul Griffiths, chief executive of Dubai Airports.

'We not only want to increase our capacity to accommodate more passengers but continually refine the service we offer our customers,' he added.

Mr Griffiths also confirmed that the hub will be upgrading and refurbishing its runways over the next few months and will be working hard to ensure there is no resulting disruption to services.

In the long-term, the improvements being made will boost capacity levels at the airport and lead to better safety and service levels, he insisted.

Dubai International is the home base of Dubai's international airlines FlyDubai and Emirates, with the latter accounting for half of all aircraft movements at the airport. Together these two carriers added a further 28 destinations to the list served by Dubai International last year.

News of the increase in passenger volumes comes as Dubai is working hard to attract more visitors to the emirate, both for business and leisure purposes.

As part of its Tourism Vision strategy, the Department of Tourism and Commerce Marketing wants to increase visitor numbers from the current ten million a year to 20 million by 2020.