Parties and gatherings available on Dubai's ferries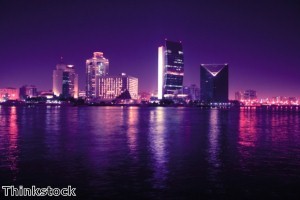 The Roads and Transport Authority (RTA) has announced a new scheme that will enable the hiring out of its ferries for private events in an effort to improve Dubai's maritime offering.
It is called Ferry without Chairs - or the Floating Hall - and will see the ships stripped of seating and turned into private venues which can be hired out to host small parties and gatherings. The seats can also be kept in and rearranged into round-tables for meetings and other events that may require them.
Acting director of marine transportation at RTA's public transport agency Hussain Khansaheb said: 'The RTA attaches great importance to the maritime transport network in Dubai with the launch of a variety of enjoyable services that take the means of transport to another level and help attract the customers to either use it as a means of transportation or entertainment.'
He suggested the service could be useful for the likes of business meetings and weddings. A buffet can be made available and facilities, including toilets and display screens, will be featured as standard.
The ferries will have customisable interiors, making them adaptable to the event in question. This may prove ideal for anyone who enjoys the entertainment and luxury opportunities available in Dubai, especially along its waterfront and marina, where the ferries are located. When out in the waters, it can offer scenic views of the city.
To book a ferry, a reservation will be needed from an individual, company or hotel, which can be obtained directly through the RTA's call centre. Up to 100 passengers can be accommodated and it is available to leave from either Al Ghubaiba Station or Marina Mall Station.
Mr Khansaheb said the main goal of the service was to offer residents and tourists a unique location for special events and to compete with other companies offering similar services.