Parachute championship set for Dubai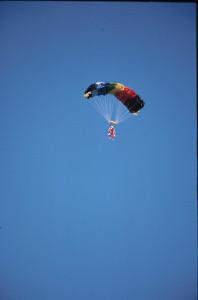 The Dubai International Parachuting Championships gets underway in the emirate tomorrow (November 29th).
The annual event, now in its fourth iteration, will run until December 9th and take place at Skydive Dubai in Palm Jumeirah. It will feature more than 1,500 divers representing at least 50 different countries.
It offers an example of the emirate's growing diversity and unique footing in the sporting world. Skydiving does not make particularly strong use of the geography, as competitors only need clear skies to perform, yet the warm weather and scenic views make it an attractive destination for athletes and audiences alike.
Chairman of the organising committee Nasser Al Neyadi said: 'This championship has got better over such a short period of time and this is mainly due to the personal interest shown by Sheikh Hamdan in ensuring we have the best competition in the world.'
Open and free to the public, the contest will see skydivers face off to win various prizes totalling more than AED 1.5 million (£250,000).
Arguably a niche area, the city has plenty of experience in the extreme sport. In addition to hosting its own events, Dubai also staged the World Parachuting Championship Mondial last year.
Teams will take part in practice sessions throughout today, ahead of the first round of jumps, which start at 08:00 local time on Friday, while the last series of dives will occur on December 9th.
Participants will be performing in a number of disciplines and styles at various locations along the open waterfront.
This two-week sporting occasion will overlap with UAE National Day on December 2nd and deputy chairman for the organising committee Yousuf Al Hammadi stated a special air show was planned for the day, tying into the city's wider celebrations.
Mr Hammadi said: 'Dubai has set the standard in organising some of the top events in the world of sport.'
A formal opening ceremony will be held tomorrow at 20:00 local time in Meydan Racecourse.