Otters express artistic side at Dubai Mall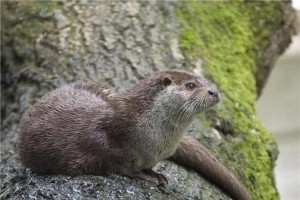 Dubai is known as a city offering virtually everything but few people expect to see painting otters during a shopping trip.
Yet a quartet of artistic mammals will be painting live until December 30th at Dubai Mall as part of the Great Otter Art Exhibition, The National reports.
The event will promote the new Dubai Aquarium and Underwater Zoo at the shopping centre. As such, the creatures have been taught to hold brushes in their front paws and apply paint to an otter-sized easel.
Chief operating officer for Dubai Mall Maitha Al Dossari said: 'Otters are among the favourite species of the underwater zoo's visitors. With their adorable features and playful personality, it's easy to understand their popularity.
'As they are active, clever and eager to learn, our qualified trainers have taught them new behaviours that they've welcomed with enthusiasm. We hope our visitors will enjoy getting to know them better and that they will be impressed by their artistic skills.'
Of course, there are plenty of other animals available, with the facility most recently welcoming the hatching of a new humboldt penguin chick, a South American species. The attraction now has 17 such birds.
While most cities would not consider placing an aquarium in a shopping centre, it showcases Dubai's creative side. Retail is big business in the emirate and Dubai Mall is one of the world's biggest shopping buildings, always proving popular with tourists. Adding family friendly activities into the facility will only increase its appeal, in turn helping to further boost overall tourism in the city.
Teaching the otters to paint is not a gimmick, either, as it forms part of their enrichment training, providing stimulus alongside a new playground area in the zoo.
The works created by the aquatic mammals will be displayed outside in a special gallery, with souvenirs available as well.
As for the current exhibition, visitors will be able to take part by choosing the colours for otters to use in their displays. Children can also paint their own masterpieces in a dedicated art corner.