New Trolley 'attracting tourists to Downtown Dubai'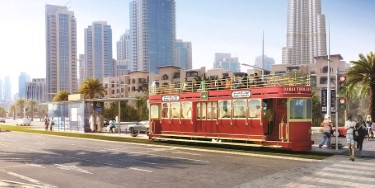 Earlier this week, the world's first hydrogen-powered, zero-emission tram opened in Dubai and has enticed tourists to travel to Downtown Dubai.
The first phase of the Dubai Trolley, which stretches over a distance of one kilometre, passes alongside Mohammed Bin Rashid Boulevard and offers residents and visitors alike convenient access to several places, including Dubai Mall and Souq Al Bahar.
Passengers can hop on and off the new transport system, offering them unparalleled ease of use, while adding value to Downtown Dubai, as the tram will bring more people to the area.
The concept of urban mobility has been reinvented with the new tram, which integrates beautiful aesthetics with state-of-the-art technology and sustainability - something that is in line with Dubai's winning World Expo concept of 'Connecting Minds, Creating the Future'.
Operating between 16:00 and midnight GST on weekdays and from 15:00 to 23:00 at the weekends, the trolley is able to carry 50 passengers at a time. It runs at 10 km per hour normally, but is able to speed up to 80 km per hour if necessary.  
The Dubai Trolley is the first of its kind in the Middle East, with the technology working to transform mobility for short journeys within a city. Each tram has an open deck, to allow full enjoyment of the views on offer, and air-conditioning, to provide respite from the heat.  
Its design is incredibly eye-catching, combining deep red with polished gold pinstripes and a green trim, meaning it will stand out and grab the attention of people, particularly tourists.
Currently, the network is made up of three stations, with a terminal located near Old Town Island housing food and beverage facilities for waiting passengers. Plans are in place to extend it, so it will span across the entirety of Downtown Dubai, which is approximately seven kilometres.