New glow-in-the-dark zone opens at popular Dubai park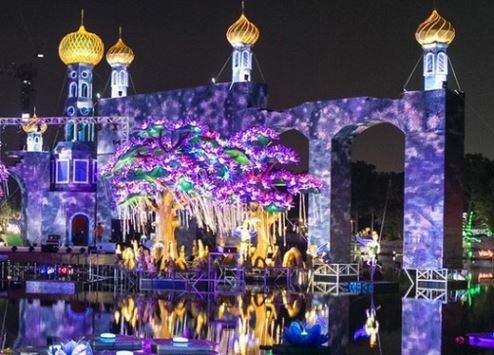 One of Dubai's largest and most popular parks is now home to a brand new glow-in-the-dark zone, which is being billed as one of the world's largest family destinations.
Dubai Garden Glow opens in the Zone B area of Zabeel Park this week, lighting up plants, trees and animals and recreating wildlife experiences such as the Masai Mara wildebeest migration.
The AED30 million attraction also features replicas of UAE landmarks made from recycled porcelain cups and medicine bottles, according to Dubai Municipality, as well as models of the tulips for which Amsterdam in The Netherlands is famous.
Dubai Garden Glow offers two experiences – Art by Day and Glow by Night until April next year.
Attractions for younger children include the Talking Tree, Panda Paradise, Dino Camp and Candy Land.
There are also areas dedicated to encouraging youngster to learn through play concepts.
The environmental section features a porcelain model of Abu Dhabi's iconic Sheikh Zayed Grand Mosque, which has been made from 90,000 porcelain cups, plates and spoons.
A 12-metre-high mock-up of the Burj Khalifa recreated using 330,000 medicine bottles filled with coloured water is another highlight.
Dubai Municipality said live performances by international and local artists and acrobats along with musical shows that promote UAE culture are also planned.
"Dubai Garden Glow is a unique edutainment vision which has been brought to life using cutting-edge technology and some of the best artistic talent from different corners of the world," said Dubai Municipality director genera Hussain Lootah.
"Dubai Garden Glow will engage and inspire visitors by spreading a strong message reinforcing Dubai's commitment towards using recycled products and reducing carbon footprint."
The municipality estimates that Dubai Garden Glow will attract more than 5,000 visitors daily.