New DWC passenger terminal put to the test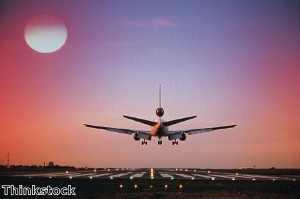 The new passenger terminal at Dubai World Central (DWC) airport has been trialled by 1,200 volunteers.
Due to open on October 27th, the facility will take some of the strain off Dubai International Airport, which is currently the second busiest on the planet.
DWC - otherwise known as Al Maktoum International - has been primarily used as a cargo hub until now, but this is all about to change.
The pilot scheme took place on Saturday (October 12th) and was aimed at assessing whether the airport was ready to start welcoming passengers in two weeks' time.
Staff, check-in and security systems and internal processes were all put to the test and airport chiefs will now analyse the results to see where improvements can be made ahead of the big launch.
Paul Griffiths - chief executive officer at Dubai Airports - said it is 'imperative' that every aspect of the customer experience is rigorously tested before the terminal officially opens its doors.
'The trial has yielded some very valuable feedback which we will be acting on to ensure we have a seamless opening in two weeks,' he remarked.
'I would like to thank all the volunteers who took time during their weekend to support the trial.'
DWC will be capable of accommodating around seven million passengers each year, which will prove to be vital as Dubai's visitor numbers continue to increase.
Around 66 million travellers are expected to use Dubai International Airport in 2013 and this figure is predicted to rise sharply in the coming years - hence the urgent need for DWC to relieve some of the burden placed on the main aviation facility.
Figures published by Dubai Airports in September showed that nearly six million passengers flew into Dubai International in August alone. This was a 23.8 per cent increase on the corresponding month in 2012 and yet another clear indication that more airport capacity is needed.
Mr Griffiths said the results were 'very satisfying'.