New Dubai tram system in the offing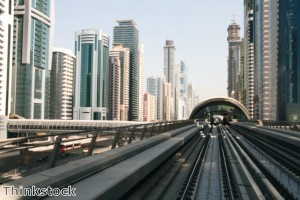 A new tram system will be trialled in Dubai in January 2014, the city's Roads and Transport Authority (RTA) has revealed.
The first phase of the Al Sufouh network will cover 10.6 km and will include 11 trams operating through 11 stations.
Dubai's population continues to expand at a rapid rate and the government is aware the emirate's current public transport system will be put under immense strain unless upgrades are made.
The RTA recently held talks with the police about new laws relating to the tram system and a motion has now been submitted to the authorities. One issue that needs to be addressed is how to manage parts of the tram line that overlap the road network.
Alstom - a French manufacturer - will trial the trams on a 700-metre test track before they are shipped over to the UAE.
RTA chairman Mattar Al Tayer said: 'The first tram is set to arrive [in] Dubai next December and the RTA will launch the experimental tests on the tram track in Dubai in January 2014. These tests will continue till the cut-off date for the start of the tram service in November 2014.'
The trams will utilise state-of-the-art technology, including automated fare collection machines, thus allowing the trams to run far more efficiently.
Advanced payment systems appear to be flavour of the month with the RTA, as the organisation recently revealed the NoI smart card system will be rolled out across more services.
Mohammad Al Ali, director of buses at RTA's Public Transport Agency, said the technology would be added to bus routes between Dubai and neighbouring emirates like Sharjah.
He suggested that work to create a universal payment solution across the entire public transport network is ongoing.
With plans also in place to extend the busy Dubai Metro in the near future, it is fair to say Dubai will soon be one of the best connected cities in the world and this will no doubt make it an even more attractive proposition for investors.