New Dubai skyscraper to stand taller than Burj Khalifa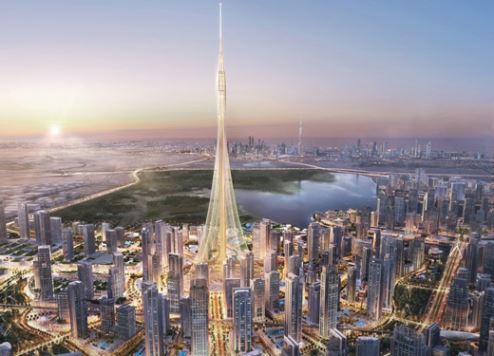 Dubai's skyline is set to be transformed once again with a new skyscraper planned that will exceed the height of the world's tallest building, Burj Khalifa.
The new US$1 billion 'The Tower' will be the centrepiece of the Dubai Creek redevelopment project.
It will be a "notch taller" than the Burj Khalifa, which stands at 828 metres (2,716 ft) in Downtown Dubai, revealed Mohamed Alabbar, chairman of Emaar Properties, the developer behind both record-breaking towers.
Designed by Spanish-Swiss architect Santiago Calatrava Valls, known for futuristic structures such as the City of Arts and Sciences complex in Valencia, Spain, the new Dubai tower will feature a slender, streamlined structure with a needlepoint-like tip, and will offer garden-inspired observation decks decorated with trees and other greenery, Alabbar revealed in a press conference last week.
The building will also have glass balconies that rotate outside the wall of the tower, as well as a luxury hotel and 18 to 20 floors of shops, restaurants and other tourist facilities, the company said.
Construction of the new tower is expected to begin at the end of June, with the goal of completing the project before the World Expo takes place in Dubai in 2020.
"With The Tower, we are delivering a compelling destination that will add long-term economic value to Dubai and the UAE. It will also position Dubai Creek Harbour as one of the most desired residential, leisure and touristic attractions, providing visitors and residents with a modern, luxurious and sustainable environment in which to live, work, learn and entertain," said Alabbar.    
Dubai Creek Harbour is a six-square-kilometre development twice the size of Emaar's Downtown Dubai.