New Dubai Harbour mega project to feature region's largest marina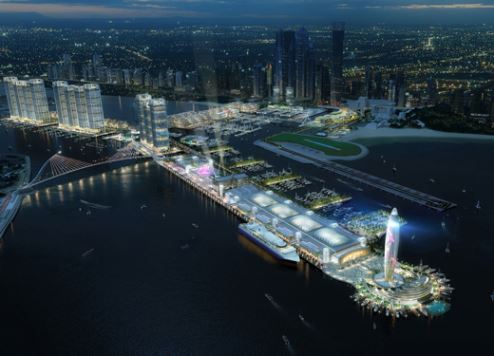 Dubai has revealed plans to build the largest marina in the Middle East and North Africa (MENA).
Dubai Harbour is a new waterfront destination that will also feature another towering icon – the Dubai Lighthouse.
Launching the mega project earlier this month, Dubai Ruler, His Highness Sheikh Mohammed bin Rashid Al Maktoum, revealed it will also include a cruise ship port, shopping mall, events arena, residential buildings, hotels, offices and a retail complex.
Dubai Harbour will be located on King Salman Street in the area between Jumeirah Beach Residence (JBR) and The Palm Jumeirah, and will be completed in phases over a four-year period.
A series of tweets revealed further details of the project, which will see the marina include at least 1,400 berths, as well as a shopping mall covering 3.5 million square feet.
The striking Dubai Lighthouse will be home to a luxury hotel and an observation deck boasting 360-degree city views. Its facade will also be used as a gigantic screen for high-resolution projections and light shows. 
The masterplan of the new destination integrates Skydive Dubai, Dubai International Marine Club (DIMC) and Logo Island into a single community.
His Highness Sheikh Mohammed said: "We are happy that this new project, which represents a unique and innovative new addition to the region's tourism landscape, opens up a range of new opportunities to investors.
"Dubai Harbour creates a venue for new investments that support our vision for this important sector and promises to further accelerate the expansion of the tourism industry in the UAE, which is already growing rapidly. I am confident that the project will have a highly positive impact on our entire region's tourism sector."