New Dubai flights to Kathmandu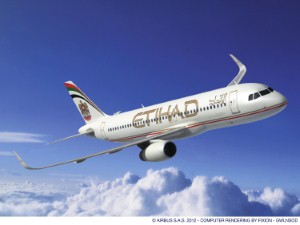 Etihad Airways - one of the biggest players in the Middle East aviation sector and the national airline of the UAE - has announced it is increasing the frequency of its flights from Dubai to Kathmandu.
Launching from November 1st, the new flights will boost the already strong ties between Nepal and the UAE, with the current level of seven flights per week to be doubled to twice daily.
Kevin Knight, Etihad Airways' chief strategy and planning officer, commented: 'The addition of the new flights will further strengthen commercial and cultural ties between Nepal and the UAE and will lead to continued strong growth in traffic flows between Kathmandu, Abu Dhabi and beyond to many key destinations across our global network.'
Utilising the aviation groups A320 aeroplanes, the flights will provide an additional 120 economy class places and 16 Pearl business class seats each day to travellers.
It has been aimed at increasing the company's extensive links between Abu Dhabi and destinations across Europe, the Middle East and the Gulf Cooperation Council.
Indeed, Etihad reported since the launch of its route between Dubai and Kathmandu in 2007, the carrier has transported upwards of 620,000 passengers between the two destinations.
The announcement of the airline's extended flight offering follows the recent news the company will also be providing a new service to travellers as part of its 'Flying Nanny' initiative.
It hopes to make life easier for families heading both to and from the UAE, with up to 300 airline cabin crew having received training from the world renowned Norland College to give staff a better insight into children's behaviour.
Etihad is now hoping to reap considerable benefits from the scheme, which will ensure calmer flights for all and fewer agitated young travellers.
The scheme is being rolled out across the company by the end of 2013 and sees flight staff able to draw on a number of friendly characters to entertain kids - such as Zoe the bee, Jamool the camel and Boo the panda.