New city harbour revealed for Dubai's latest mega project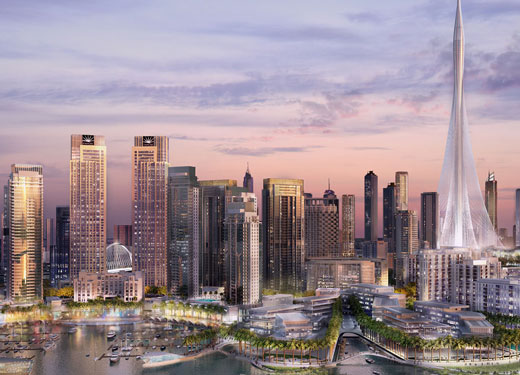 Dubai Creek Harbour, one of the biggest infrastructure projects underway in Dubai, has revealed yet another major attraction.
A city-harbour getaway, known as Creek Marina, will be built at the heart of Creek Island Dubai – a large leisure and residential district within the six-square-kilometre waterfront development.
In a nod to Dubai's rich pearling history, Creek Marina will be designed in the shape of an oyster and house more than 80 single- and double-berths. It will feature a dedicated world-class yacht club with an array of shopping and dining outlets.
Other facilities will include a selection of high-end retail, dining and leisure venues with a promenade featuring cafés, restaurants, fashion outlets and street-food vendors.
An interactive fountain and world-class art installations, as well as more than 1,500 parking spaces will also be part of the project.
The announcement of Creek Marina, which is due to open at the end of the year, follows recent news that Dubai Creek Harbour will be home to the Middle East's largest Chinatown.
The retail precinct will occupy a central location within the new city, according to master developer Emaar Properties.
Plans are also afoot to build a mega 'tech-driven' retail project known as Dubai Square within the Dubai Creek Harbour development.
With 8.07 million sq ft of gross floor retail space – the equivalent of more than 100 football pitches – it will offer nearly double the gross leasable area of Dubai Mall.
Creek Marina, Dubai Square and Chinatown are all set to become major tourist attractions in Dubai. However, Dubai Creek Harbour's crowning glory will be the US$1 billion Dubai Creek Tower, which aims to take the title of world's tallest tower. It will stand at 928 metres, surpassing the Burj Khalifa at 830 metres.