Net profits for Emirates leaps to 43% in 2013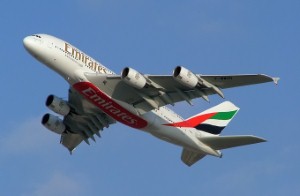 Yesterday (May 8th), Dubai's flagship airline Emirates announced a 43 per cent hike in year-on-year net profits for 2013/14. The boost has been attributed to international expansion and cheaper fuel costs.
The company reported a profit of Dh3.3 billion (£531 million) in 2013, compared to Dh2.3 billion in the previous financial year. Overall, revenues leaped to Dh82.6 billion, which is a 13 per cent increase on 2012's Dh73.1 billion.
At a news conference, Sheikh Ahmed bin Saeed Al Maktoum, president of the of the Dubai Civil Aviation Authority, chairman of Emirates Airline and chief executive officer of the Emirates Group, said: "It has been a good year. There was growth in our business all round and fuel costs fell by about four per cent last year, which helped."
The airline, which is the world's largest customer for the twin-deck Airbus A380 and Boeing's new 777 jet, claimed it carried 44.5 million passengers last year, which is a 13 per cent increase compared to the previous year.
According to the Khaleej Times, the increase has boosted traffic at Dubai International so much so that it has overtaken London Heathrow as the busiest international airport. Emirates was able to add nine new destinations across Asia, Europe and North America and added 24 new planes to its fleet.
While the company's fuel bill increased by ten per cent, it was outpaced by the 14 per cent rise in seat capacity growth. Emirates achieved a four per cent reduction in fuel costs because of an overall drop in supply prices.
Saj Ahmad, chief analyst at London-based StrategicAero Research, told the Khaleej Times: 'Emirates' strategy of organic growth is paying significant dividends as the airline effectively suppressed fuel costs while deploying fuel-efficient jets like the 777-300ER and capitalising on effective use of the high-capacity A380 on key trunk routes that have lowered costs per seat and made fares more price elastic for customers."
Emirates has also announced that during the coming year it will create five new passenger routes to Abuja, Brussels, Chicago, Kano and Oslo.