Neighbourhood malls join shopping festival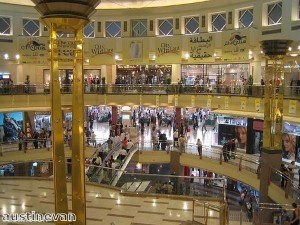 Neighbourhood malls in Dubai will be taking part in next year's shopping festival.
They will run their own raffles, with tickets given for every AED 200 (£33.40) spent and prizes reaching up to AED 500,000 on the last day, Gulf News reports.
Dubai Shopping Festival (DSF) is a popular event for fans of big name brands, but this latest iteration ensures even smaller retail trips can join in on the fun. An annual event, it will be held between January 2nd and February 2nd next year, giving people a whole month to visit the emirate.
Director at Dubai Shopping Malls Group (DSMG) Eisa Ebrahim said: 'The impression is - and to an extent this is quite true - that DSF campaigns are always about Dubai's mega-malls, but the city's retail landscape has evolved over a much wider area.'
Retail is a big part of the city's business, catering to both the wealthy locals and tourists looking to take advantage of the vast amount of choice. The emirate is home to a plethora malls, including Dubai Mall - one of the largest in the world - many of which are focused in the downtown area.
In fact, there are over 40 different locations across the sheikhdom, in addition to local markets and duty-free opportunities at both its airports.
Locations taking part in DSF's raffle include the Etihad Mall, Time Square Centre and Barsha Mall.
Chief executive officer for Buz Marketing, the firm advising the smaller malls, Baiju Kurieash said: 'There's a fine balance that Dubai's retail sector can achieve between sales generated by visitors to the city during DSF and domestic shoppers - neighbourhood malls can help in that process.'
As for the larger centres, these will still be offering the extravagant deals and activities the festival is known for.
This year's event will be attended by Hollywood star, as well as the face of Gucci, Blake Lively on the opening Friday (January 3rd) to promote her new perfume. She will be available in Dubai Mall's Galeries Lafayette from 18:00 local time.