Museums, mud, mega-steps, and more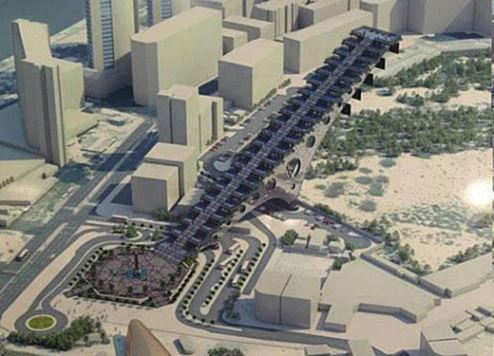 The list of Dubai's new events and attractions keeps growing – here's our top five, all announced just last week
TOUGH MUDDER
The world-renowned Tough Mudder outdoor obstacle course will make its debut in the Middle East on December 9 and 10 this year.
Organised by IMG in partnership with du, the Tough Mudder and du Mini Mudder events will take place at Dubai's Hamdan Sports Complex and include 8km and 9km courses.
Thousands of visitors and residents will have the chance to tackle a number of challenging obstacles including the Arctic Enema 2.0, which is an icy water plunge, and the Electroshock Therapy, a muddy sprint through dangling electric wires. The Block-Ness Monster will also see participants push, pull and roll their way through 60 feet of rotating barriers in a water pit while children aged seven to 13 can take part in a 1.5km-obstacle course mud run.
Commenting on the event, du's executive vice president of brand and communications, Hala Badri, said: "We continue to focus our efforts on bringing the best events to the region to help our customers get the best out of our great nation in surprising and delighting ways." 
PARK LIFE
The construction of the 400-hectare Dubai Safari Park is almost complete and when it opens, it will feature several villages, a children's zoo, a butterfly park and a botanical garden.
However, the park is already planned for expansion, with the development of a 1,000-seat theatre recently gaining government approval.
The $41 million (AED 151 million) project, due for completion at the end of 2016, will also include a clean-energy production garden and an interactive garden for children. Free WiFi, interactive displays, and environmentally-friendly services including treated water renewable energy will be on offer too. More than 1,000 species of animals are currently being transported to the park from around the world in preparation for its opening later this year.
STEP IT UP
Last week photos of one of Dubai Municipality's largest upcoming projects, Dubai Steps, were released. Images of the giant staircase were released via the Dubai Media Office's Twitter account as well as details of the new attraction. The exact location of the project has not been revealed but the development will soar 100 metres above the ground. The 25-storey structure will comprise 500 steps and serve as a new sports and tourism landmark in Dubai. Dubai Steps will also be used to stage various events.
TIME TRAVEL
A museum displaying thousands of golden, bronze and iron pieces discovered at the Saruq Al Hadid archaeological site in Dubai's Rub Al Khali desert, has opened its doors to the public. His Highness Sheikh Mohammed bin Rashid Al Maktoum, Vice President and Prime Minister of the UAE and Ruler of Dubai opened Saruq Al Hadid Museum at Al Shindagha in Bur Dubai last week. He was accompanied by HH Sheikh Hamdan bin Mohammed bin Rashid Al Maktoum, Crown Prince of Dubai. The museum also features fossilised remains of animals and fish, in addition to ancient clay pots. "Museums reflect the culture of the nation," said Sheikh Mohammed at the grand opening. "They symbolise ancient and modern civilisation of the country."
He added: "A nation that has no history, has no identity."
SWIM IN THE SKY
The Burj Club, the high-end fitness and wellness retreat at Burj Khalifa, the tallest building in the world, has unveiled a new Rooftop Pool and Lounge.
The chic venue overlooking Dubai Fountains, offers a Miami-meets-Manhattan vibe with plush cabanas and lounge beds, and is fitted with coolers.
The Rooftop Pool and Lounge also serves innovative cuisine that includes a range of light and heavy tapas, fresh salads, succulent sandwiches and signature Burj Club mini- burgers.
Guests can also choose from a selection of signature mocktails, including the 'Prince of Paradise', combining fresh grapefruit, peaches, basil leaves and star anise, and 'Red Sands' – a blend of fresh lychees, strawberries, cranberry juice and syrup, among others.
Exciting weekend brunches, lunch with pool access packages and themed nights will be offered soon. The Rooftop Pool operates from 6am to 6pm, while the Lounge is open from 12 noon to 10pm daily.