Miracle Gardens to reopen October 15th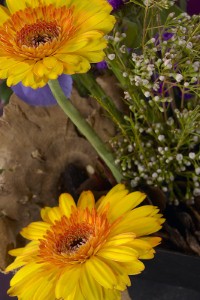 Dubai's Miracle Gardens will reopen on October 15th.
After taking a summer break, the parkland - run by Akar Landscaping - has been improved and now boasts new attractions and displays, Gulf News reports.
Administration manager for Akar Landscaping Sylvie Siddik said: 'It will be a totally new experience for visitors. They will be stunned when they come here.'
The facility is just one of Dubai's many entertainment businesses that attract tourists around the year - not just during the summer.
One of the new improvements involves the fragrant village, where the volume of plants have increased twofold since the garden originally opened in February. This includes a flower village containing ten floral houses and a large palace made of stunning vegetation - with sunflowers that follow the sun's movement across the sky. Visitors will also be able to pick edible fruit and vegetables, including tomatoes, lettuce and strawberries.
Ms Siddik said: 'The fruits and vegetables have been planted in a manner whereby we can add more stocks as and when needed.'
The reopening also boasts the display of a 15 m wide clock - developed by Akar Landscaping and made from real flowers and plants, which will change its design as the seasons change.
Other activities available from October 15th include Petal Pedals - where boats made of flowers sit in a lake with similarly designed tunnels and walls - and the Play Time area, which helps keep children occupied during visits and is ideal for tourist families. The park also has plenty of parking, souvenir shops and food opportunities.
Another section available within the entertainment facility is the aromatic garden, where visitors can get close to rare medicinal plants from across the globe, as well as fragrant flowers. Guests will be able to smell, touch and turn these plants into herbal teas.
Later in the year, an 1,800 square meter butterfly park will also open, consisting of nine domes - each containing a different species - in addition to a museum for attendees to learn about unusual arthropods and appreciate exhibits.