'Millions of shoppers and families' to head to Dubai for DSF 2017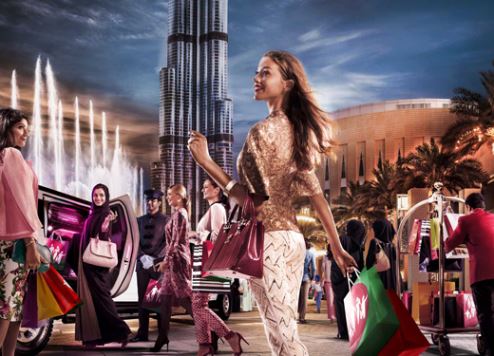 The 2017 edition of the Dubai Shopping Festival (DSF) will get underway on December 26, offering visitors to the city 34 days of deals, prize draws, competitions and live shows.
This year thousands of retail outlets will offer discounts of up to 75 percent on apparel and fashion, consumer electronics, watches, perfumes, furniture, home appliances and more.
Now in its 22nd year, DSF is the longest running festival of its kind in the world.
Organiser, the Dubai Festivals and Retail Establishment (DFRE), an agency of the Department of Tourism and Commerce Marketing (Dubai Tourism), has revealed the 2017 event will include fashion shows, exclusive product launches, big names in entertainment, as well as opportunities to win cars, cash and gold.
Helal Saeed Almarri, director general of Dubai's Department of Tourism and Commerce Marketing (Dubai Tourism), said DSF was one of the most important festivals on Dubai's annual events calendar and enhanced Dubai's position as "an iconic year-round tourism destination offering unique shopping experiences".
"DSF is part of our efforts to leverage large-scale events to achieve a bigger goal - that of attracting 20 million visitors to Dubai as envisaged by Dubai's Tourism Vision 2020," he said. "This is also a time when the spotlight falls on our solid partnerships in the private sector, whose outstanding support has ensured the continuous success of DSF, contributing to the economic growth of Dubai."
Saeed Mohammad Mesam Al Falasi, executive director, Retail and Strategic Alliances, DFRE, said the agency expected "millions of shoppers and families to come to Dubai for a DSF".
"Working closely with all our stakeholders, the DSF team has pulled out all the stops to make this annual extravaganza memorable for the whole family, with regular favourites and plenty of new events for everyone to enjoy, while offering an even more rewarding retail season for Dubai's diverse business community."
DSF will also kick off the new Retail Calendar of Dubai, with the festival starting earlier than in previous years to take advantage of the holiday season retail buzz.
Carrying the slogan 'Shop. Win. Celebrate', DSF will end on January 28, making this edition one of the longest in the event's history.
Dubai's annual Retail Calendar is developed by DFRE in cooperation with the Department of Economic Development.
The calendar contains the full programme of anchor retail activities being conducted and promoted at a city-level including shopping-related festivals, promotions and seasonal offer periods, mega-sales and clearance events, exclusive retail experiences and activations.