Mike Tyson will take to the stage in Dubai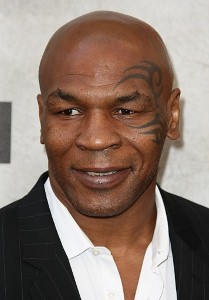 Boxing legend Mike Tyson is set to bring a special stage show to Dubai later this year.
Entitled 'The Undisputed Truth', the performance will give the audience a behind-the-scenes look at what makes the former world heavyweight champion tick.
With direction coming from Spike Lee, it certainly promises to be a must-see event.
The show will run for four nights between November 6th and 9th at the Dubai World Trade Centre and organisers are expecting it to be a sell out.
A spokesman for Alchemy Project - the company tasked with promoting the event - said: 'We are incredibly honoured to have the legendary Mike Tyson with us on this great theatrical performance, alongside one of Hollywood's finest directors, Spike Lee.'
Anybody who has followed Tyson's fighting career will know this performance will throw up some interesting tales.
Having become the youngest ever heavyweight world champion at the age of 20, the hard-hitting American went on to be one of the most entertaining boxers on the planet.
His best years arguably came between 1986 and 1990, in which time he participated in some epic bouts against the likes of Larry Holmes and Tony Tubbs. In 1997, Tyson caused controversy after he bit the ear of Evander Holyfield during a match.
Tyson has made a number of comebacks, most notably in 2002, when he lost to British heavyweight Lennox Lewis.
Rumours had been circulating that Iron Mike was due to take to the ring in a rematch against Holyfield in the UAE in 2008-09, but this never materialised.
Although the boxing ring is Tyson's comfort zone, he should not be too overawed by the prospect of appearing on stage in Dubai.
The 47-year-old has appeared in a number of TV programmes and movies over the years, including the hugely popular Hangover films.
His presence in the UAE highlights the fact the Gulf nation is capable of attracting some of the most famous stars on the planet.