Middle East's first green road to be built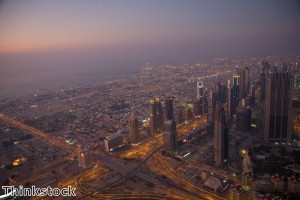 The first green road is to be built in the Middle East and it will go some way towards improving links between Dubai and Abu Dhabi.
Abu Dhabi's Department of Transport (DoT) has confirmed the eco-friendly highway will be constructed to link the existing primary route (the E11) between the destinations and the new Dubai-Abu Dhabi main road.
All of the latest globally accepted standards of sustainable practice will be adhered to throughout the building work, which is expected to begin in the first quarter of 2015.
Certain materials that are known to be less harmful to the environment - such as recycled asphalt, scarp rubber tyres and concrete aggregates - will be used in the project. Once the new green road has been completed, it will run for five kilometres and significantly enhance transport infrastructure in the UAE.
A statement from the DoT read: "The green road project is one of the strategic initiatives undertaken by the DoT to attain the Surface Transport Master Plan vision and its priorities by developing [an] integrated road network that addresses the current and future needs of Abu Dhabi whilst setting an example of environment-friendly projects."
One major benefit for businesses and people in the UAE is that the DoT has already promised the future work will not have a negative impact on existing traffic flows. In fact, several detours have already been arranged so that motorists do not lose out once the work begins.
The DoT added the scheme is likely to be the first in a string of green road developments in the UAE in the year to come.
As soon as work on the Abu Dhabi-Dubai link is finished, it will be assessed and analysed by experts who will use the results to implement future eco-friendly roads in the region.
Elsewhere in the UAE, the DoT has only recently announced it is to carry out an upgrade and expansion of the Abu Dhabi-Shahama road.