Metro services extended during Eid celebrations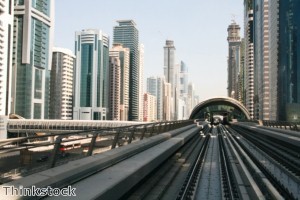 The Dubai Metro will remain open for longer during the Eid Al-Adha celebrations, it has been confirmed.
Leaders at the Roads & Transport Authority (RTA) have revealed that people will be able to use the light railway for 22 hours a day while the festivities are in progress.
Metro stations will receive passengers from 05:30 and will do so until 03:00 the following day.
This will continue until Saturday October 19th, the RTA announced.
Thousands of people are expected to flood the emirate during the Eid celebrations and this will test the city's transport infrastructure to the limit.
As well as adding extra Metro services, the RTA has confirmed that more buses and water taxis will also be introduced.
The organisation is particularly keen to ensure people can visit Dubai's main tourist attractions without any fuss.
Store owners at the Dubai Mall are bracing themselves for a deluge of customers during Eid, while areas like Dubai Marina, the Burj Khalifa and Dubai Festival City are also expected to be extremely busy.
Of course, the sheikhdom has successfully managed to accommodate huge numbers of visitors in previous years and the RTA does not envisage any problems.

It will also be a good dress rehearsal for the 2020 World Expo, which Dubai is in the running to host.
A final decision as to which city will stage the event will be made in November and a successful bid could see millions of people from all over the world visiting the UAE.
The RTA is well aware of just how much strain this will place the existing transport infrastructure under, which is why ambitious plans to enhance the network have been mooted.
Some 67 million people used the Metro in the first half of 2013 alone and this figure is expected to grow substantially as more and more people move to the city on a permanent basis. This underlines just how important it is for the RTA to extend the railway before 2020.