Mega cruise ship docks in Dubai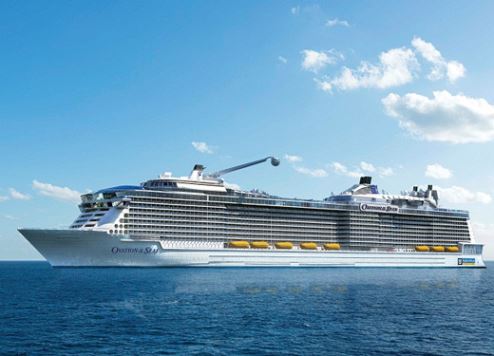 One of the world's biggest – and arguably, coolest – cruise ships docked in Dubai last week on route from Europe to Asia.
Royal Caribbean's Ovation of the Seas, which offers a raft of exciting features, from a roller-skating rink, state-of-the-art basketball court and even bumper cars, to the famous Jamie's Italian eatery and the California-chic Coastal Kitchen restaurant, docked at Dubai Cruise Terminal 3 for two days as part of its Global Odyssey cruise from Barcelona to Spain.
Measuring a breathtaking 348 metres in length and weighing a mammoth 168,666 tonnes, the ship was met by enthusiastic onlookers, as well as Jamal Humaid Al Falasi, director of Dubai cruise tourism, Dubai Tourism and dignitaries from Dubai Immigration, Dubai Customs, DP World, PCFC Security and representatives from the ship's agency, Wilhelmsen Ship Services and ground handler, Arabian Adventures.
The ship's captain, Flemming Nielsen, was given an honorary plaque at a special ceremony held on board the ship.
The arrival of Ovation of the Seas is another testament to Dubai's growing popularity as a cruise destination over the past few years, with various major cruise lines operating in Dubai resulting in 455,616 cruise tourists arriving in the city during the 2014-15 season.
"We remain on track to hit our target of 500,000 cruise tourists in the 2015-16 season, and thanks to the numerous cruise lines that home port and call in Dubai, we look forward to welcoming even more cruise tourists to our ports over the next few years," said Al Falasi.
Ovation of the Seas was launched in mid-April 2016 and is stopping at Dubai and Singapore, before finally arriving in Beijing (Tianjin) for its inaugural China season.
The ship features the North Star observation capsule, offering passenger 360-degree views, as well as a new DreamWorks experience for kids that includes dining, appearances and photo opportunities with characters from Shrek, Kung Fu Panda and Madagascar.