MasterChef Australia judges impressed with Dubai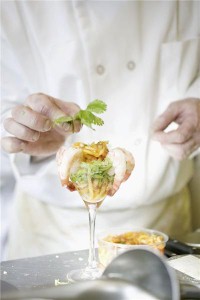 With so many gourmet restaurants and a reputation for providing world-class hospitality, is it any wonder that judges of Australian MasterChef were thoroughly impressed with Dubai during their recent visit?
According to Gulf News, two episodes of the popular show have been filmed in the UAE and this gave the judging panel - which consists of Matt Preston, Gary Mehigan and George Calombaris - ample opportunity to soak up the country's unique atmosphere.
Mr Mehigan told the news provider why Dubai is so special.
'What's nice about Dubai is that it is a melting pot of cultures and nationalities,' he was quoted as saying.
'I went to the old part of Dubai and loved it. Dubai reminds me of the [Australian] Gold Coast which sits on this stretch of land - it comes out of nowhere and it becomes this bustling metropolis.'
Meanwhile, Mr Preston grabbed the opportunity to sample some of the city's finest cuisine and also tested out the emirate's street food culture.
He dined at Zuma, Hakkasan, Atlantis and tried the shawarmas that were being prepared by local vendors. Safe to say he was suitably impressed with what he came across.
The trip wasn't all about sampling the finer points of the sheikhdom, though. The MasterChef contestants had to serve up gourmet food for VIP guests at the stunning Atlantis The Palm, so the pressure was really on.
In addition to this, the budding chefs were taken out of their comfort zone, as the judges took them on a desert challenge, in which they had to cook camel meat and prepare desserts from local ingredients such as dates and cream.
The fact that such big TV programmes have recognised Dubai's rich culture when it comes to food is great news for the city, as Aussies who watch the show may be tempted to book a trip to the UAE.
Airlines have been working hard to put on more flights between the two countries in recent months, so hotel owners in the Gulf should brace themselves for an influx of visitors.