Mas-wrestling heading to Dubai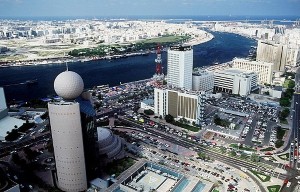 Dubai is hosting its first mas-wrestling event this weekend.
It will be home to the sport's world championships on Saturday (December 14th) at Mirdif City Centre mall, the National Reports.
A lesser known, unique sport, mas-wrestling has its origins in Russia and involves two athletes holding onto a wooden stick, each trying to pull the other contestant towards them while maintaining grip.
Competitors from 24 different countries will be in the emirate to compete in head-to-head matches, with a total of $7,000 (£4,000) available in prize money.
The event will follow on from the first round, held in Moscow in September, and the second round, which occurred in St Petersburg in October. The city will also have its own native entries in the tournament.
Director of the sports affairs department at Dubai Police Humaid Al Ansari said: 'It is a very unique and a new sport that we are hosting for the first time. The contestants from Dubai are heavyweight champions with a powerlifting background.
'We have selected people who are into powerlifting and have trained them for the past week. It is a very simple sport but requires a lot of muscular strength. Training and technique are very important.'
Although it has a long history, the sport itself is arguably new on the international scene. While it was officially recognised and registered in Russia back in 2003, the first open tournament was not held until this year, taking place in the US in June.
The fact Dubai has been chosen to host the world championship finals says plenty about the emirate's ability to cater to a wide range of pursuits.
On the opposite end of the spectrum, today marks the start of the World Youth Championships in Dubai. The contest, in its eighth iteration, will see more than 140 children take part.
Just like Mas-wrestling, this is a competition building in popularity, with a loyal following, and Dubai is already showing its strong support.