Luxury car showroom becomes art gallery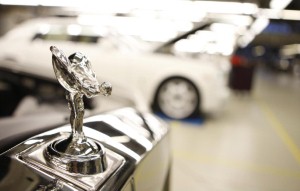 Rolls-Royce, one of the world's most prestigious car manufacturers, has transformed its Dubai showroom into an impromptu art gallery, displaying masterpieces from modern and contemporary artists.
AGMC, the sole dealer of these luxury cars in Dubai, announced it had reached an exclusive deal with ART Media, which would allow the retailer to display ART's renowned private collection.
The artwork is now being exhibited at the Rolls-Royce showroom on Sheikh Zayed Road. Paintings from numerous artists, including Sergey Polyakov, Mikhail Kaban-Petrov and Eduard Manukyan, will be available for viewing and purchase throughout May.
Osman Abdelmoneim, general manager of AGMC, commented: "There are many synergies between Rolls-Royce and the arts, with our Bespoke programme, in particular, allowing owners to take inspiration from the arts, among other aspects of their lives, to create truly exceptional automobiles.
"This exclusive collection represents some of the finest modern art to come out of Russia and when the opportunity for this partnership with ART Media arose, the decision was a natural one."
According to AGMC, the Rolls-Royce brand is strong links to the world of art, as its iconic bonnet ornament - the Spirit of Ecstasy - was designed and created by sculptor Charles Robinson Sykes in 1911.
Last year, the luxury car manufacturer supported a solo exhibition for high-profile Iranian artist Reza Darakshani at Dubai's Salsali Private Museum during Dubai 2013. His New York exhibition completely sold out following his visit to the UAE and the artist saw one of his pieces being snapped up by the distinguished Museum of Modern Art (MoMA).
While visiting the AGMC showroom, art connoisseurs will be able view exemplary examples of contemporary paintings and will be given the chance to purchase selected pieces. The partnership between the car dealer and ART Media runs until the end of May.
The gallery-cum-car showroom has been set up at a time when Dubai is increasingly celebrating the world of art and creativity.