Londoners spend most in Dubai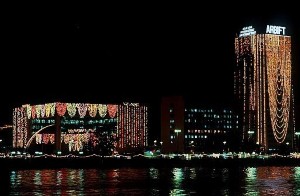 Visitors from London will spend the money most in Dubai this year, new research has revealed.
Figures from MasterCard's latest Global Destination Cities Index show the UK capital is the emirate's top feeder city, accounting for more visitors than anywhere else in the world.
Just over one million people are expected to travel from London to Dubai over the course of this year, spending a total of nearly $1.3 billion (£760 million) during their time in the emirate.
The number of people flying from the British city to Dubai will have increased by more than 15 per cent by the time 2014 comes to a close, as 881 million travellers made the trip last year.
This impressive figure is evidence of the emirate's growing popularity as a destination, something which makes it an attractive proposition for investors and tourists alike.
After London, MasterCard revealed Riyadh is Dubai's second largest feeder city. More than 450,000 people will travel to the emirate from the Saudi Arabian capital this year and they are expected to spend in the region of $359 million.
Following Riyadh is Kuwait, with 430,000 individuals forecast to visit Dubai from the gulf nation in 2014. This represents growth of 1.9 per cent on the figure for last year and these visitors will spend $339 million during their time in the emirate.
Another Saudi Arabian city was ranked fourth by MasterCard - Jeddah. Some 423,000 people are expected to make the trip to Dubai and they are forecast to spend around $333 million.
The list of the top five feeder cities for the emirate is completed by Paris. MasterCard predicts 405,000 individuals will travel to Dubai from the French capital this year, representing impressive growth of 15.5 per cent. These visitors are expected to spend $322 million.
Overall, the report ranked Dubai as the fifth most popular destination city in the world and these figures are evidence that it is an attractive proposition to people both in the Middle East and western Europe.