Legoland Dubai on track as first mega rollercoaster installed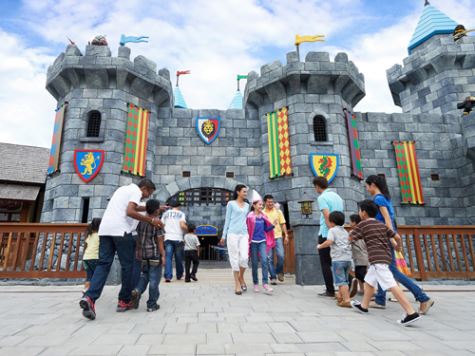 The first rollercoaster has been installed at the hotly anticipated Legoland Dubai theme park.
At 16 metres high and reaching speeds of up to 60km/h, the Dragon rollercoaster is set to be the park's biggest ride and one of its most popular attractions, according to developer Dubai Parks and Resorts.
The ride will be the centrepiece of the Lego Kingdom area– one of six themed zones planned for Legoland Dubai, which will feature more than 40 interactive rides, shows and attractions, as well as 15,000 Lego model structures.
The Dragon "weaves through the Legoland Castle before twisting and turning on to a fun-filled outdoor track", revealed Stanford Pinto, chief parks operations officer at Dubai Parks and Resorts.
"More than 50 percent of the ride engineering and manufacturing across all of the theme parks has been completed and ride components such as Legoland's Dragon ride have started arriving on site for installation," he added.
Dubai Parks and Resorts is scheduled to open in October 2016 and will feature three theme parks – motiongate Dubai, Bollywood Parks Dubai and Legoland along with the Legoland Water Park.
The parks will be located in Jebel Ali and will feature more than 73 main attractions between them.
An additional area called Riverland Dubai, featuring retail, F&B and hospitality components including hotels and resorts, is also under construction.
Dubai Parks and Resorts is expected to attract 5.5 million visitors in its first full-year of operation.
The mega development will spearhead the emirate's push to become the 'Orlando of the Middle East'. Taken as a whole, the UAE's theme park sector is expected to increase in value by 78 percent over the next four years.
Theme park revenues will hit the US$837 million mark in 2019 compared to $470 million in 2015, according to a new Euromonitor International report, conducted on behalf of The Leisure Show 2015.
This massive growth in earnings will be driven by five new theme parks that are currently under construction across the UAE including Dubai Parks and Resorts' three attractions (2016), IMG Worlds of Adventure (2016), also in Dubai, plus the Warner Bros theme park (2018) on Abu Dhabi's entertainment-focused Yas Island.