Legendary QE2 Dubai's latest high-profile hotel opening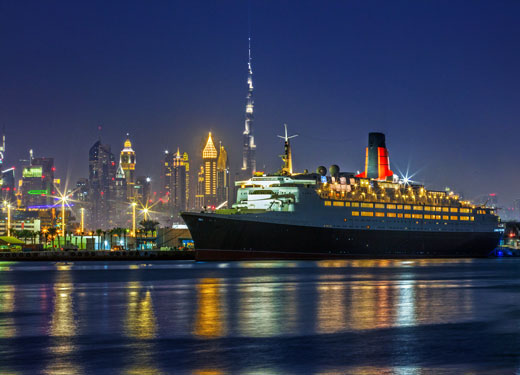 After undergoing a massive refurbishment that took 2.7 million man-hours to complete, the legendary Queen Elizabeth 2 has reopened in Dubai as a unique luxury floating hotel.
The QE2, whose history spans more than five decades, opened its doors to the public on 18 April as part of its soft opening phase.
Five of the QE2's planned 13 restaurants are now open for business, while guests can also visit the adjacent QE2 Heritage Exhibition, which is an interactive museum that showcases the cruise liner during its heyday in the 1960s.
The floating hotel is now moored permanently at Mina Rashid, providing convenient access for guests to Dubai's major attractions in old town and Downtown Dubai.
Commenting on the opening, Hamza Mustafa, CEO of PCFC Hotels, which is part of the Dubai government's Ports, Customs and Free Zones Corporation and is managing the QE2, said: "To finally open the QE2 is a dream come true for my team and I. It is one of Dubai's most highly anticipated projects and we know that a lot of people are going to be very excited to see her for the first time, or to step back on board the vessel that created so many wonderful memories during her 40 years at sea."
Mustafa revealed the renovations team committed more than 2.7 million man-hours to transforming the ship into the floating luxury hotel and "multi-faceted tourist destination that she is today".
"I am very proud to reintroduce her to the world as she embarks on the next stage of her celebrated journey," he added.
The hotel, which spans 13 floors of the cruise liner, features period-replica furniture, historic paintings and memorabilia from when the ship was the official maritime vessel for Britain's reigning monarch, Queen Elizabeth II.
It features a range of accommodation capped by two invitation-only Royal Suites featuring private verandas, conservatories and dining rooms – in addition to luxurious bedrooms.
The grand launch of the QE2 will take place in October.