Lady Gaga 'excited for Dubai performance'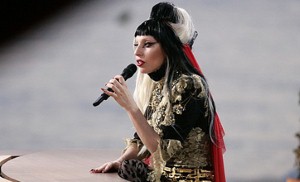 Lady Gaga has revealed she is looking forward to her performance in Dubai next month.
The pop star is due to perform in the emirate on September 10th, when she brings her ArtPop Ball Global Tour to the Meydan Racecourse.
In an interview with Harper's Bazaar USA, Gaga said she is keen both to perform in Dubai and to visit its many attractions.
'I'm very excited to go there, see my fans, give them the show of a lifetime. And, of course, I must explore the local designers and go shopping,' she stated.
The singer, who is famous for her often-outlandish outfits, also revealed she doesn't have anything particular in mind for her trip to Dubai.
'I don't have my looks planned … I just wear what makes me feel good for the day,' she said in the interview.
Gaga's Dubai performance will kick off the European leg of her world tour and the fact such a high-profile star is coming to the emirate is evidence of how well it is regarded on the world stage.
She is not the only major musical act set to perform in Dubai, however, as pop sensations One Direction are due to arrive in the emirate in April next year.
The British boyband will be performing 7he Sevens Stadium in front of roughly 30,000 fans on April 4th 2015 and tickets for the event have already sold out.
Well-known French musician Patrick Bruel will also be performing in Dubai soon. He is due to appear at the Dubai World Trade Centre on September 18th.
The emirate is an increasingly popular destination for celebrities from across the world and this week has seen renowned British boxer David Hay open his own gym in the city. In cooperation with the Dubai Investment Development Agency, he has launched the Hayemaker Gym, which is one of a growing number of high-quality fitness centres in the emirate.
'Having been a frequent visitor to Dubai I know it's a city where people demand the best and where they come to improve their lives,' Hay commented.