Is futsal taking off in Dubai?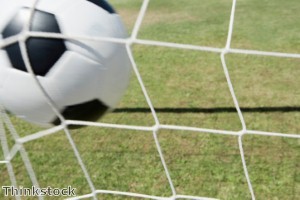 Most of the leading football nations swear by it and some of the world's best ever players, including Lionel Messi, Xavi Hernandez and Cristiano Ronaldo, attribute their skills to the game - we are of course talking about futsal.
The sport is predominantly played indoors on a hard surface, using a smaller ball with less bounce. Football associations across the planet believe futsal can help younger players to perfect their ball control and it is becoming increasingly popular.
It seems futsal is starting to take seed in the UAE and a number of tournaments have taken place in recent weeks.
Brazil's Falcao - who is one of the most successful futsal players on earth - recently visited Dubai to run the rule over the local talent and he was suitably impressed by what he saw.
He was the guest of honour during an exhibition match between Expo 2020 and Nad Al Sheba teams held as part of the Nad Al Sheba Ramadan Championships.
Although the 36-year-old could not play because of an injury, he watched the matches alongside Shaikh Hamdan Bin Mohammad Bin Rashid Al Maktoum, Crown Prince of Dubai and chairman of the Dubai Sports Council.
Falcao told Gulf News he is keen to return to the emirate to hold some futsal sessions in November.
'It is my desire to come here and do something more organised like a clinic for players, especially the young ones, as futsal plays a crucial role in developing future footballers,' he was quoted as saying.
Football is increasingly popular in the UAE and the country's Pro League is slowly starting to gain more interest from overseas.
The presence of Diego Maradona as a sporting ambassador has also done the country no harm whatsoever and the Argentine legend will spend much of his time working with young footballers in Dubai.

The ex-Barcelona and Napoli superstar was arguably the best player of his generation and it is a real coup for the UAE to secure his services.