Is Dubai set to break another property record?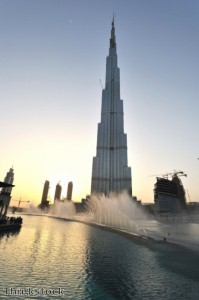 Yet another world record-breaking building could be erected in Dubai, it has emerged.
Ahmed bin Sulayem, the executive chairman of the Dubai Multi Commodities Centre, revealed that plans are in place to construct the tallest commercial structure on the planet.
He told the National the project would get underway at Jumeirah Lake Towers and would add to the emirate's already impressive collection of skyscrapers.
'Building the world's tallest tower is in the Dubai DNA,' Mr Bin Sulayem was quoted as saying.
'We will use the best technology, the best materials and the best designers in the world to bring this project to life.'
The UAE's commercial real estate market has gone from strength to strength in recent years, with some of the world's most recognisable companies setting up new bases in the city. Demand for prime office space is so great that developers are falling over themselves in the race to create more luxurious towers.
Although he would not confirm how tall the structure would be or when it would be finished, Mr Bin Sulayem suggested the building is likely to be higher than the Taipei 101 tower in Taiwan - which is the current world record holder.
The Taipei 101 tower stands 508 metres off the ground, but its status as the tallest commercial building is under threat, as huge skyscrapers are currently being built in China and the US.
It is thought the Jumeirah Lake Towers development would have to surpass the 700-metre mark if it is to lay claim to the world record.
This would put it just over 100 metres below the imposing Burj Khalifa, which is the outright tallest building on earth.
With more than 160 stories, the 828-metre tower dominates Dubai's skyline and is one of the most iconic buildings in the world.
The Burj Khalifa also holds records for the greatest number of stories, highest occupied floor, tallest outdoor observation deck, the elevator with the longest travelling distance and tallest elevator in the world.