Investment opportunities in Dubai: Waterfront property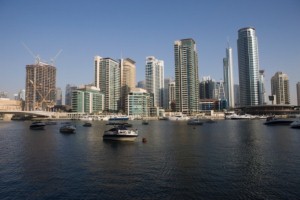 No matter where you are in the world, waterfront properties will always been the most desirable and sought after pieces of real estate, as they are associated with luxury and style. Dubai is home to a large number of developments that been built in close proximity to a marina or lake, making the emirate even more appealing to investors.
In the UK, prime waterfront properties can command a 60 per cent price increase compared to their inland counterparts, according to research from Knight Frank, and Dubai is no different. Investors and occupiers are willing to pay a premium for amazing views, something that the emirate can provide with ease.
So, why is this type of property so appealing?
The view
One of the main draws of waterfront properties is the views they can offer, meaning hotels near lakes, oceans and marinas will find tourists clamoring for rooms that can let them take in the picturesque scenery.
This type of real estate is particularly popular in Dubai, due to the emirate's unique skyline, meaning that is can lead to bigger value gains for investors.
Earlier this year, Knight Frank suggested property at Dubai Marina, where the region's highest demand for hotel facilities exists, would continue to be popular among expats, tourists and investors. Khawar Khan from the firm said that those investing in this type of property can add to strong capital growth with rising rental yields.
Renan Bourdeau, deputy chief executive of propertyfinder.ae, commented: 'Dubai Marina has been at the top of our rankings for over two years now - no small feat in a city like Dubai where new developments are being launched every other week.
'The community is where everything is at - business centres, beaches, entertainment, gorgeous views, stylish pads and hip nightlife.'
Quiet and clean
Another aspect of the appeal of waterfront real estate in Dubai is the fact that it is often separate from other busier areas of the emirate. This means that those living, working and holidaying in this type of property can avoid the noise and pollution associated with central locations.
Areas like Dubai Marina, which is home to the Jumeirah Beach Residence, attract occupiers that are willing to pay more for peace, quiet, style and sophistication, meaning that investors can expect bigger rent yields compared to other locations within the emirate.
According to the website Fortune.com, silence is the 'latest trend' in luxury resorts, which makes sense given that noise complaints regularly top hotel guest satisfaction surveys. In today's modern world, where technology means were are contactable for 24 hours a day, people are willing to pay for the chance to escape and catch their breath.
Leisure
Being able to enjoy downtime after work and at weekends is important to residents, meaning places that can offer beautiful beaches, retail therapy, watersports and a host of restaurants will be popular among those living in Dubai, as well as those visiting the emirate.
As a rule, waterfront properties are generally surrounded by restaurants, cafés, hotels, spas, shops, a buzzing nightlife and attractions aimed at families with children. This means the area has something for everyone, so those residing and visiting Dubai can stay relaxed and entertained.
Typically, this type of real estate is in close proximity to places that are essential to residents and tourists, including supermarkets, pharmacies, nurseries, salons, dry cleaners and malls - all of which adds value to the property.
Developments on the waterfront are normally positioned for optimal connectivity, allow people to travel easily to other areas without any unnecessary hassle. For example, real estate experts are expecting the tram service to drive up property prices in surrounding areas, including the Dubai Marina.
Nick Maclean, managing director of CBRE Middle East, said: 'We expect that the Dubai Tram stations dotted around the Marina will similarly drive demand up in their immediate vicinity.
Comments from Craig Plumb, head of research at JLL MENA, resonated with this, as he added: 'Dubai Tram is more likely to reduce the time taken to lease or sell units - which in turn will provide higher returns for investors in projects located in short walking distance.'
Posted by Bob Brunskill