Innovative 'sleep 'n fly' lounge opens at DXB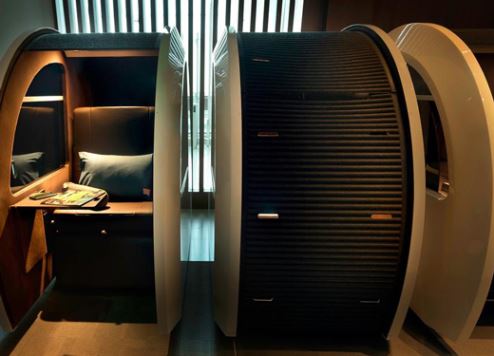 Tired passengers flying in and out of Terminal 3 at Dubai International (DXB) can now catch 40 winks at the new sleep 'n fly lounge, a Scandinavian-designed facility offering 27 pods and cabins.
The lounge features 20 state-of-the-art 'igloo' sleep pods and seven premium double cabins with pull-out children's beds.
Inspired by nature, sleep 'n fly provides an oasis of relaxation where travellers can take a one-hour power nap or stay for an entire night if they so wish.
Eugene Barry, executive vice president – Dubai Airports Commercial Group, said: "The opening of sleep 'n fly expands Dubai International's existing range of rest and relaxation options and is the latest in a line of personalised and engaging products we are rolling out to cater to the evolving needs of global travellers."
Geoffrey Carrier, the general manager of lounge operator, ONGROUND Hospitality, said: "After operating dedicated airport sleep lounges for several years now we have taken our unique concept to a new level at Dubai International. Having launched our new flagship sleep 'n fly lounge, we are very excited to be part of the amazing DXB experience, and we look forward to offering some much-needed rest to the ever-growing number of passengers passing through the airport."
Located close to Gate A1 in Concourse A, the sleep 'n fly lounge provides more choice for passengers travelling through DXB, which also boasts five-star hotels. Pods and cabins can be reserved online and members of Priority Pass and LoungeKey are welcome.
Justin Banon, director – Collinson Group, said partnering with sleep 'n fly to provide new options for Priority Pass, Priority Pass Select, and LoungeKey customers was part of the firm's ongoing mission to offer new options for travellers in airport terminals worldwide.
"The sleep pods provide [travellers] a unique way to rest and unwind while waiting for their flight," he added.