Important solar park launches in Dubai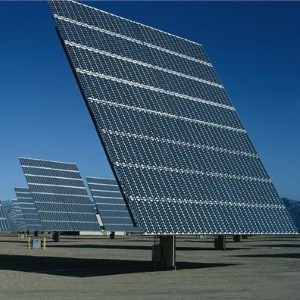 The first phase of an important new solar power station has been launched in Dubai.
Costing AED 120 million (£20.2 million), Mohammed bin Rashid Al Maktoum Solar Park is a 13-megawatt photovoltaic power plant and is located around 30 km south of the emirate.
The station will turn the scorching desert sun into sustainable energy that will be fed into the city's electricity network.
It is the government's latest attempt to reduce the sheikhdom's reliance on power derived from environmentally-damaging fossil fuels and it is hoped the solar park will have an output capacity of 1,000 megawatts by 2030.
The plant is already supplying power to Dubai and the authorities are now looking to initiate phase two of the project.
In a statement, Saeed Mohammed Al-Tayer, the managing director and chief executive officer of the Dubai Electricity and Water Authority (Dewa), said: 'This [second phase] will be based on an independent power producing model based on the partnership between the public and private sectors.'
Dewa supervises projects commissioned and financed by the Dubai Supreme Council of Energy and the body will play an instrumental part in the government's drive towards more sustainable use of electricity.
The authorities have outlined a number of projects and potential legal reforms aimed at reducing Dubai's carbon footprint.
New regulations relating to green building practices have been drawn up and construction companies are also being encouraged to install solar panels on the roofs of the city's famous skyscrapers.
Earlier this year, bosses at Dubai International Airport outlined a number of measures to vastly improve the facility's green credentials. Some 192 solar panels are set to be installed in the new Concourse D, generating around 1.8 per cent of the building's overall power.
Although August is the hottest month in Dubai, with temperatures averaging 35.5 degrees Celsius, the emirate receives plenty of sunshine all year round, giving the government a big opportunity to take advantage of solar power.