Hotels in Dubai expecting 'busy holiday season'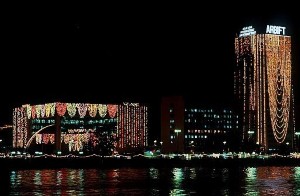 Hotels across Dubai are expecting a rise in occupancy rates for the festive season, as even budget-conscious tourists seek quality accommodation during their visits in December and January.
Wael El Behi, the general manager of Hawthorn Suites by Wyndham JBR, told the National: 'We are expecting full occupancy during this period, especially on New Year's Eve.
'Ras Al Khaimah is picking up because of high rates in Dubai during these dates. However, Dubai will retain the high demand and occupancy because of the events planned across the emirate.'
Although price-conscious travellers are opting for economical destinations, there is still high demand for hotels in Dubai, with many expecting to sell out of rooms during the festive season. A spokesperson for the Jumeirah Group said that rooms and suites get booked exceptionally quickly, particularly in the first half of the year.
During November, STR Global recorded a 4.6 per cent rise in consumer demand for hotel rooms in Dubai compared to October. The firm expects revenue per available room (RevPAR) to grow by 0.9 per cent next year
In a statement, Elizabeth Winkle, managing director of STR Global, said: 'Growth in demand remained healthy for the month, achieving occupancy levels in excess of 85 percent despite the continuous strong supply growth.'
She added that her firm's outlook for 2015 sees Dubai maintaining positive occupancy levels, which suggests the emirate will continue to hold pricing power.
During the first half of 2014, Dubai's hotels welcomed more than 5.8 million tourists, which is the highest number of visitors achieved in the first six months of a year in the world, according to the Department of Tourism and Commerce Marketing.
The statistics showed increases across several key indicators in the emirate's hotel property market, such as hotel establishment guests, hotel and hotel apartment room revenues, food and beverage revenue and average length of stay.