Hotels enjoying Eid boom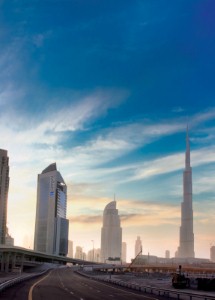 Hotels in Dubai are benefiting from an influx of guests looking to celebrate the Eid holiday.
The celebration, which marks the end of Ramadan, officially starts today and people from across the Muslim world have flocked to the emirate to enjoy the occasion.
Rashid Aboobacker, a senior consultant with TRI Hospitality Consulting, told the National occupancy rates are likely to be as high as 90 per cent in Dubai's hotels this week.
Speaking to the publication, various hotel managers from the emirate said they expect to be very busy during the Eid period, with the majority of guests coming from Saudi Arabia and within the United Arab Emirates.
Alper Can Bulcumhem, general manager at the Ramada Plaza Jumeirah Beach Residence, stated: 'Visitors from the Gulf will stay for a longer period at the hotels and more UAE residents will go for short breaks to celebrate Eid.'
Dubai is seen as a hot-spot for celebrations such as Eid and this is one of the many reasons why the emirate is such an attractive destination for investment in the hotel and hospitality sector.
While the majority of visitors during Eid come from within the UAE and the wider Gulf, international tourism remains strong during the period.
A spokesman for Desert Safari Dubai stated: 'I would say we have an almost even split between UAE residents and tourists wanting to go on safaris.'
The popularity of visiting Dubai for Eid has been made clear by comments from the emirate's transport industry.
A spokesman for Dubai International Airport said the period is expected to be among the busiest in its history. Indeed, the transport hub has taken on extra staff to cope with this demand and ensure visitors do not suffer from any delays.
One of the major draws that brings people to Dubai is the opportunity for shopping and Zawya has already reported the emirate's retail sector is doing particularly well in the build-up to the celebration.