Hotel property in Dubai: A guide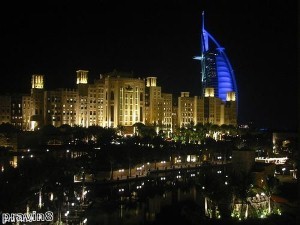 If you are attracted to the idea of owning a slice of Dubai's booming tourist industry you're not alone. Investors are flocking to the emirate to take advantage of strong hotel occupancy rates and healthy revenues.
Dubai's property market is performing exceedingly well. According to Knight Frank's Prime Global Forecast issued at the end of 2013, it will be the world's top performer this year. Predicted price growth is between ten to 15 per cent, placing it ahead of Asian markets such as Beijing and Shanghai.
"The fundamentals of the property market remain strong. The economy has been growing and the forecast is optimistic," says Bharat Kumar, marketing director of Propertyfinder.ae.
However, as with all investments, you shouldn't dive headfirst without doing some research first, such as where is the best place to buy, what type of accommodation to purchase and who to acquire the property from.
Here is a guide to making a sound investment in Dubai's robust hospitality industry.
Where to buy?
The emirate offers first-time investors a vast array of prime areas to in which buy hotel property to ensure the biggest return on investment (ROI). However, after a relatively small amount of research, an investment in Dubai Marina and TECOM should begin to stand out as clear choices.
Dubai Marina has become a thriving hub of commercial and residential activity, while also being home to breathtaking feats of architectural design - so it's no surprise that the area is one of the most sought-after addresses in the emirate.
A recent report from Knight Frank described Dubai Marina as "in high demand" and an area that can offer investors with stable rental yields. The firm identified the appeal of the region to expats as one of the primary reasons that is attracting high volumes of property investment, adding "established, mainstream locations such as Dubai Marina remain popular among western expatriates and continue to see healthy demand and thus price growth".
Based in the heart of 'New Dubai', TECOM is a region that continues to go from strength to strength, allowing investors to enjoy healthy returns year after year. It is an ever-evolving community that is home to residential, office and commercial projects, including hotels and hotel apartments. Its central location and unparalleled accessibility make it an obvious choice for anyone visiting the emirate.
What to buy?
The hospitality sector in Dubai is flourishing, meaning a first-time investor may find it difficult to decide what type of property to purchase. Hotels and hotel apartments are both performing well, achieving consistently strong occupancy rates and robust revenues, so choosing between them may prove to be hard.
Your choice of property will go hand in hand with the decision you make about what type of renter you want to attract.
Hotel, or serviced, apartments attract a different type of tourist compared to other types of accommodation, with studies suggesting families are drawn to the 'home away from home' benefits these units can offer. Conversely, traditional hotels are an all-rounder, appealing to a myriad of travellers, such as medical and business tourists.
A recent report from Colliers highlights the growing popularity of hotel apartments among tourists, describing how guests stay on average 5.3 days, almost double the figure for traditional hotels. Filippo Sona, the head of hotels at the consultancy Colliers International's Dubai office, told The National: "Serviced apartments offer a risk mitigation strategy for large [real estate] companies to diversify into another asset class.
"[These] are flexible and generally more resilient to downturns, as they can easily shift their strategy from a hotel-like strategy targeting short-stay tourists to a residential-like strategy targeting long-stay guests."
What size property?
This is another decision that will be influenced by the type of renter you are aiming to attract. If you're seeking to appeal to lone travellers, business tourists or couples then there is no need to invest in vast villas that will accommodate hordes of guests. Conversely, if you're wishing to entice families then a property with lots of space will be ideal.
Finished or off-plan?
Another question you may come up against when considering investment in property in Dubai is whether to purchase property that is fully constructed or off-plan.
Obviously, the benefits of buying when the development is completed are being able to take a tour of the property and see it in all its glory. However, this isn't the case when buying off-plan, but investors may be able to take advantage of discounted prices and it could allow them to snap up property in prime locations.
Choosing the right developer
This is an important step for an investor, not just those new to the game, as you need to find a developer with a proven track record. The First Group (TFG) was able to survive the global recession that shook the world to its core in 2008 and continue to deliver its projects.
TFG isn't a fledgling firm trying to find its feet in the industry, as it has 25 years of expertise and experience that can provide valuable guidance to anyone wishing to purchase property in Dubai. The support they offer doesn't stop once they hand over the keys either, as the company prides itself in creating lasting and prosperous relationships with investors.
Posted by Bob Brunskill