Hotel occupancy up 1.7 per cent in November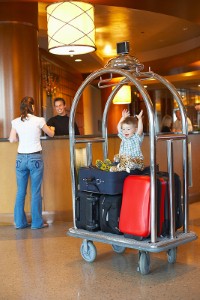 Hotel occupancy was up 1.7 per cent in Dubai in November.
This is according to figures from STR Global, which shows the rate reached 87.5 per cent.
In terms of financial gains, the typical revenue per available room (RevPAR) rose by 11.5 per cent to AED 967.88 (£160), with average daily rates (ADRs) increasing 9.8 per cent to AED 1,105.38.
What may be of interest to investors, however, is that demand jumped 8.8 per cent, while supply only went up 6.9 per cent. This suggests the former is still not being met, presenting an ideal time to enter into Dubai's growing hospitality sector.
Given the average figures per room, it is clear the more expensive hotels are in demand, reflecting a wealthy audience. As such, upcoming businesses such as Dubai Marina can prove to be prospective opportunities in the sector.
STR Global's managing director Elizabeth Winkle said: 'Although occupancy achieved the highest levels in November since 2007, ADR remains the dominating force in driving double-digit RevPAR growth for Dubai in this month.
'Similar patterns are expected for 2014; however, supply growth is expected to dilute occupancy rates, leaving ADR to drive RevPAR growth.'
In 2014, the firm still expects RevPAR to improve by plus 3.5 per cent.
During the first three quarters of 2013, Dubai's Department of Tourism and Commerce Marketing recorded around 7.9 million visitors to the city. These figures, recently updated, show a total more than 30,874,000 guest nights booked in the city's hotels, much more than the rough 27,164,000 in the same period last year.
Financially, this generated AED 15.33 billion in revenue, up 17.1 per cent in comparison to 2012.
In the future, investors can look to Expo 2020 for a significant boost to tourism.
Speaking to Zawya, Bahraini economist Jassem Hussein believes the hospitality sector is just one area which will improve as a result, with funding providing a key importance.
He said the 'Expo will contribute to an increase in foreign investments in the fixed projects such as factories, hotels and small and medium sized businesses', such as restaurants and air travel, both areas related to hotels in the tourism business.