Hotel Occupancy in Dubai rises in May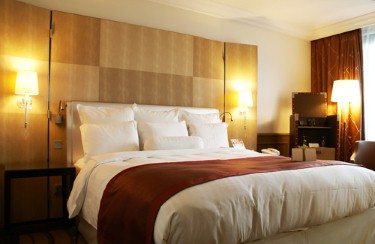 In May, demand for hotel rooms outpaced supply in Dubai, pushing occupancy rates up compared to the previous month, according to statistics from STR Global.
The figures for last month reveal that occupancy was boosted by the number of events held in the emirate specifically for meetings, incentives, conferences, and exhibitions (MICE) tourists, such as the Arabian Hotel Investment Conference and the International Design Exhibition.
Over the last few years, Dubai has become increasingly known as a world-class international hub for business, meaning more events have been added to the calendar to appeal to the MICE audience.
Under the Tourism Vision 2020, Sheikh Mohammed bin Rashid Al Maktoum has set the emirate a target of doubling the number of MICE visitors from the 2.3 million that headed for the region's shores in 2014 to around 4.6 million in five years' time.
Statistics from hotel data benchmarking firm STR Global reveal that during May, demand for Dubai's hotel rooms increased by eight per cent, while supply expanded by 5.6 per cent. Overall, occupancy for the emirate's accommodation reached 80 per cent last month.
The firm notes that Dubai has established a successful flow of tourism throughout the year and new projects - such as the Dubai Design District and Dubai Parks and Resorts' theme park complex - should bring a diverse mix of visitors to the region in the future.
STR Global provides hotel operators, developers, financiers, analysts and suppliers to the hotel industry with access to relevant research. It creates custom reports on the hotel industry in Europe, the Middle East, Africa, the Asia-Pacific region and South America.