Hotel investment 'set to grow in Dubai'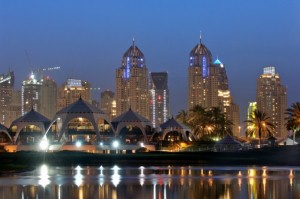 In 2014, the global volume of hotel investments will reach $50 billion (£30.9 billion), according to property consultancy firm Jones Lang LaSalle (JLL). This estimate represents a five to ten per cent increase compared to 2013, which marks a five-year high for the industry.
The firm suggests that growth in the Europe, the Middle East and Africa (EMEA) region will be particularly buoyant, contributing $16 billion to the overall value of hotel investments across the globe, with Dubai outshining many other regions in terms of the growth achieved.
Increasing numbers of visitors continue to flock to Dubai looking for a unique holiday experience. Ian Scott, UK and Ireland director of Dubai Tourism, said: "Great things are happening in Dubai and the emirate is working hard to expand its tourism offering to attract both new and repeat visitors with an increase in accommodation, innovative and exciting attractions and new infrastructure."
As the tourism industry in the emirate continues to go from strength to strength, investors are jumping at the chance to put their money into hotel property, with the sector looking to maintain a steady momentum in the future.
The industry has managed to produce consistently strong occupancy rates, healthy average rates per room and daily rates - which all translates into a sound investment for anyone looking to see strong returns on initial outlays.
Remarkable growth
Dubai's hotel property market continues to occupy a position of accelerated growth, according to JLL. Evidence of this lies in the fact that his year the sector recorded its busiest ever six months, playing host to a massive 5.8 million tourists between January and June 2014.
The consultancy firm predicts that the emirate's hotel sector will continue to perform well for the rest of the year, as Dubai positions itself as one of the world's leading tourist destinations.
In addition, the industry is likely to receive a significant boost as the Department of Tourism and Commerce Marketing (DTCM) continues to create innovative initiatives designed to increase the number of visitors making their way to the emirate every year by 2020.
Occupancy rates
Last year, occupancy rates remained high, even though the industry had to absorb an influx of new developments and rooms, which is testament to the emirate's pulling power for tourists.
Data from the DTCM reveals that 11 million tourists stayed in hotel accommodation in total last year, with occupancy rates for hotel rooms increasing from 78 per cent in 2012 to 80 per cent in 2013. Hotel apartments experienced a 6.5 per cent boost, taking the overall rate to 82 per cent.
Helal Saeed Almarri, director-general of the DTCM, commented: "The strong growth shown in hotel establishment guests in 2013 is a positive first step on our journey to 2020.
"Having announced the Tourism Vision for 2020 in May 2013, a 10.6 per cent growth in hotel establishment guests demonstrates that we are on track to double the ten million tourists received in 2012 to 20 million per year by 2020 and is an affirmation of the destination's ever increasing appeal."
Revenue
The numbers make it obvious that hotel property investments in Dubai bear solid profits, which is one of the reasons investor demand is always on the rise. The report from JLL shows that the emirate has experienced a 5.6 per cent increase in average daily rates for 2014 compared to last year, as well as growth of 4.6 per cent in terms of revenue per available room.
During the first six months of 2014 - the busiest half-year Dubai hotels have ever recorded - revenues saw significant growth, with profits reaching AED12.74billion (£2.16 billion), which is up 10.9 per cent compared to the same period in 2013. Hotel and hotel apartments reported increases of 15.3 per cent in room revenues - a significant jump and further evidence that investment in this sector is sound.
The future
The future is most certainly bright for Dubai's hotel investors as the industry is set to strengthen even further in the run up to the World Expo 2020 - an honour bestowed upon the emirate in November 2013 after judges were impressed by its winning concept 'Connecting Minds, Creating the Future'.
Furthermore, the DTCM has ramped up it efforts to attract tourists from the globe in a bid to reaching Dubai's target of playing host to 20 million visitors every year by 2020 - a goal that looks achievable each passing month with every announcement of tourist figures.
Posted by Neil King