Hospitality championships in Dubai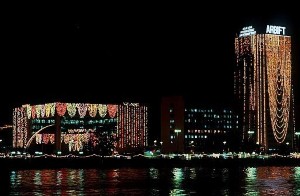 The first Dubai World Hospitality Championship (DWHC) will be held in the emirate from November 16th to 18th.
DWHC will aim to highlight and display emirati cuisine throughout the occasion, the National reports.
Taking place at the Dubai World Trade Centre, the event has been organised by Zaabeel Palace Hospitality, the Emirates Culinary Guild and the World Association of Chefs' Societies under a directive from the city's ruler Sheikh Mohammed bin Rashid Al Maktoum.
Since Dubai is well known for its international culture and community, its local customs do not always shine through as easily. This latest announcement is part of the ongoing push to offer unique experiences within the sheikhdom, adding traditional emirati cuisine alongside everything else already found within.
DWHC's president Ahmed bin hareb Al Falahi said: 'Sheikh Mohammed suggested hosting the first such hospitality championship in the world. Under his directive, the championship committee aims to introduce emirati culture in a way never showcased before.'
This celebration of local culture is a growing trend in Dubai - this year saw local emirati dances in various parks during its Eid Al Adha festivities.
It will open with a competition between 112 teams from the UAE, including various professional chefs, as they prepare homemade food from a select menu. This will be judged by local experts.
There will also be a cook-off between 12 national teams from across the globe, including the UAE, the US, Wales and Russia, providing five-course traditional meals for various guests.
The finale will be a hospitality industry test held between 700 chefs from across 100 UAE restaurants and hotels. For both this and the international competition, judges will be from across the world, adding global significance to the occasion. Among those attending include well known celebrity chefs such as Gary Rhodes and Khulood Atiq.
If it proves popular enough, it is hoped the inaugural DWHC will become an annual event, adding to the many yearly features and celebrations that attract people to Dubai, as well as making the city more well known in the food and fine dining industry.