Hollywood stars head to Dubai for DIFF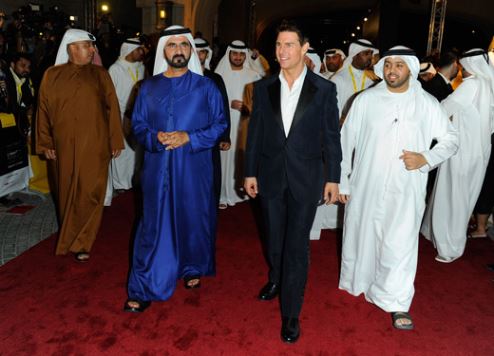 The 12th Dubai International Film Festival boasts a star-studded line-up including Hollywood heavyweight Jake Gyllenhaal
Dubai's status as an emerging movie industry hub will be elevated to new heights this week as the Dubai International Film Festival (DIFF) opens its doors today (9 December).
Now in its 12th year, the annual eight-day festival is set to feature 130 movies, shorts and documentaries from 60 countries in 40 languages.
DIFF's growing international profile will be reflected in the star-studded line-up attending this year's event, with Hollywood actors Jake Gyllenhaal, Richard Dreyfuss, Eva Longoria, Dev Patel, Michael B. Jordan and Melanie Griffiths, set to grace the red carpet at the festival's main venue, Madinat Jumeirah.
Gyllenhaal, who starred in this year's boxing-themed blockbuster Southpaw, will be honoured with Variety magazines' 'International Star of the Year' Award at a special ceremony on Thursday, December 10.
Fans of the Hollywood heartthrob will also get the chance to meet the actor and ask him questions in an 'In Conversation With' event taking place the same day.  
"Jake Gyllenhaal is a huge talent and undeniably one of the most accomplished actors of his generation," says DIFF chairman Abdulhamid Juma.
"His screen presence has captivated audiences since his earliest roles and he is one of the most versatile actors working today. We are absolutely delighted to honour his extraordinary talents with Variety Magazine's 'International Star of the Year' Award at this year's festival."
The opening ceremony of the awards will also present four Lifetime Achievement Awards. They will recognise Egyptian actor Ezzat Al Alayli, French-Tunisian actor Sami Bouajila, Indian actor Naseeruddin Shah and French actress Catherine Deneuve.
DIFF attracts independent cinema fans from across the region, particularly as the event screens uncensored films, many of which will not get a general release.
The 2015 festival will kick off with the screening of Room, directed by Lenny Abrahamson (Frank) and starring Brie Larson. Based on Emma Donoghue's 2010 best-selling novel of the same name, the film tells the story of a five-year-old boy and his mother (played by Larson) who have been living in captivity.  Room recently won the People's Choice Award at the Toronto International Film Festival and is tipped for an Oscar nomination in 2016.
DIFF will also continue its tradition of free screenings at The Beach JBR, appealing to Dubai residents and visitors alike.
In honour of the 40th anniversary of Jaws, there will be a special screening of the classic Spielberg film on Saturday December 12 and actor Richard Dreyfuss, who played oceanographer Hooper in the movie, will make a guest appearance.
While Hollywood hits are a DIFF draw card, the festival also provides a platform for contemporary Arab cinema.
This year more than 70 biopics, comedies, dramas and love stories from the Arabian Peninsula, Levant and North Africa will be screened with more than half (40) making their global debuts in Dubai. An additional nine will be international premieres. 
An unprecedented number of UAE feature films will also be screened, which is testament to the increasing number of talented filmmakers emerging in the UAE, according to DIFF's artistic director, Masoud Amralla Al Ali.
"We have seen the Arab film industry and global interest in it develop at rapid pace," he says. "DIFF is committed to providing a platform for local filmmakers to showcase their talent to the region and across the world and it is our hope that the intense competition for the Muhr Emirati films will continue to enrich the film industry in the Emirates and encourage young and aspiring filmmakers."
The compelling UAE line-up includes five feature films – the highest number to ever feature in the Muhr Emirati category - plus seven shorts and documentaries.
Closing the curtain on the 12th edition of DIFF is the financial crisis comedy-drama The Big Short from internationally-renowned screenwriter, director, comedian and actor Adam McKay.
Its stellar cast includes Brad Pitt, Christian Bale, Ryan Gosling and Steve Carrell – the four play outsiders in the world of high-finance who predicted the spectacular collapse of the credit and housing markets in the mid-2000s, and who decide to take on the big banks for their lack of foresight and greed.
Juma says DIFF continues to prove itself as "one of the world's leading film festivals for both film fans and the wider film industry".
"For eight days in December, the UAE, the region and the world will come together in Dubai to celebrate the magic of cinema," he says.
"Works from some of the world's most talented directors and acclaimed actors will be screened across the city; new connections will be forged at the Dubai Film Market; and all eyes will be on Arab cinema as DIFF once again provides a platform to support cinema from around the region.
"With such an impressive showcase of films, acclaimed talent, industry programmes and special events at this year's DIFF, I am prouder than ever to see an incredible line-up of quality contemporary Arab cinema that continues to challenge perspectives and stand tall alongside international counterparts."