Hollywood's elite collaborate to promote Dubai's tourism appeal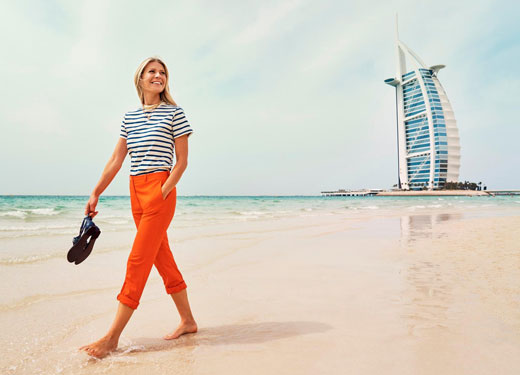 Three of Hollywood's best-known actresses have joined forces to shoot a video promoting Dubai as a world-leading tourism destination.
Movie stars Gwyneth Paltrow, Kate Hudson and Zoe Saldana headline the short film 'A Story Takes Flight'. The trio embark on journeys of exploration, discovering what the diverse destination has to offer.
The high-profile project, spearheaded by Dubai's Department of Tourism and Commerce Marketing (Dubai Tourism), was shot over eight days with a crew representing more than 30 nationalities in a production that evokes the spirit of a city born from multiculturalism.
Issam Kazim, CEO, Dubai Tourism, said: "Inspired by HH Sheikh Mohammed bin Rashid Al Maktoum, Vice President and Prime Minister of the UAE and Ruler of Dubai's aspirational leadership, the people of Dubai reflect the city's underlying spirit, where the pursuit of excellence has no finish line. 'A Story Takes Flight' is unlike any other film in that it speaks to this defining character of our city. It is a story of each person's discovery through their interaction with Dubai. Regardless of who you are or where you are from, your journey with us also has no finish line – and the paths to explore are endless."
Filmed by Emmy and Director's Guild award-winning director, Reed Morano, who is known for her immersive, natural, and cinematic style, the production captures the essence of each actress and the beauty of Dubai.


Paltrow, an Academy Award winner, describes Dubai as "special" and a "melting pot", while Emmy award-winner Hudson praises the city's "vibrant art and music community" and friendly locals. Meanwhile, actress and entrepreneur Saldana notes Dubai's diversity of attractions.
"I went from riding horses at sunrise to watching the sunset from 150 metres in the sky. I can't wait to bring my boys here to continue the adventure," she said.
Kazim added: "Through the eyes of the actresses we see the values, connections, and experiences that are engrained in the fabric of Dubai. This is what we represent. We are proud to be a city home to more than 200 nationalities and we welcome visitors to write the next chapter of their story here."