Hollyoaks stars choose Dubai for beach break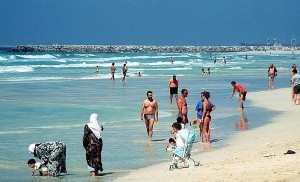 Dubai's tourism industry has received a boost this week by the arrival of two of the stars of popular UK television programme Hollyoaks.
Actresses Gemma Merna and Jorgie Porter were photographed lapping up some sunshine in the emirate as they took a break from the soap opera and instead focused on topping up their tan, reports the Daily Mail.
They were seen enjoying a break at the plush Le Royal Meridien hotel in Dubai and they frolicked on the beach in their bikinis as they made the most of the beautiful weather covering the region at the moment.
As well as playing in the sea and bathing on the beach, Porter even took some time out to brush up on her gymnastics, performing cartwheels along the sand as she showed off her acrobatic prowess.
Porter, who is best known for playing the role of Theresa McQueen in Hollyoaks, opted for a peach two-piece swimsuit and she was looking incredibly healthy - possibly a result of her memorable stint on the reality show Dancing on Ice.
At one point she joined her co-star Merna for a photograph in which they both jumped into the sea at the same time.
Dubai is understandably an incredibly popular holiday destination, not only with the rich and famous, but also with all manner of people.
This is because it offers wonderful beach surroundings just a short distance from one of the world's most iconic and impressive cities, which is blessed with a vast supply of high-quality and reasonably priced hotels.
It is no wonder the girls from Hollyoaks looked so pleased with themselves on their joint break in the emirate.
They may just have provided a spot of inspiration for people from the UK who are thinking of a sunshine break with fascinating city attractions thrown in over the coming months.