High praise for Dubai's 2020 World Expo bid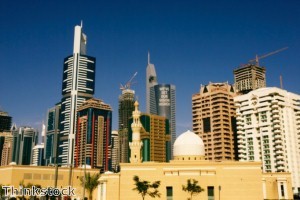 Business chiefs and government figures in Dubai will be feeling even more confident about the city's chances of landing the 2020 World Expo after a respected newspaper hailed the emirate as the leading candidate.
An article in the New York Times suggested the Middle Eastern metropolis is the favourite to secure the all-important event.
This particular publication is seen as one of the most influential in the US, so Dubai's Expo bid leaders will be delighted with the praise.
Speaking to the Khaleej Times, Boeing Middle East president Jeff Johnson hailed the city's ambition to stage such a huge international meeting.
'It is apparent a significant effort has been put into making the case for Dubai's bid and winning it would be a tremendous achievement; it would indeed be a case of a world-class event being held in a world-class city,' he was quoted as saying.
The sheikhdom is up against Sao Paulo in Brazil, the Russian city of Yekaterinburg and Izmir in Turkey in the race to host the 2020 World Expo and all four candidates have successfully negotiated a number of preliminary tests.
Voting will take place in November, giving the winner plenty of time to prepare for the gathering.
Earlier this year, Oxford Economics conducted a study in order to highlight the massive benefits of staging the Expo. It predicted that up to 25 million people would flock to Dubai if it is victorious, which is obviously great news for hotel owners.
Additionally, some 277,000 jobs could be created in the emirate, with the majority of these being made between 2018 and 2021. This demonstrates just how important the 2020 World Expo could be to Dubai's economic growth.
The emirate certainly has the credentials to host an exhibition of this magnitude, as a plethora of high-profile conferences are held in the area every year. Now, with less than 100 days until voting begins, Dubai's bid leaders must do all they can to attract as much support as possible.