Gulfood marks 20th anniversary in 2015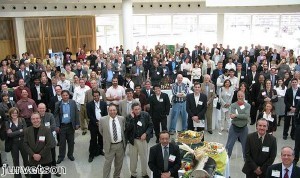 Gulfood, the world's largest annual food and hospital trade show, will celebrate its 20th anniversary in 2015 and showcase Dubai's strengths as a location for exhibitions, both locally and internationally.
The global food trade platform is expected to attract more than 4,800 overseas companies from 120 countries, as well as 85,000 tourists from all over the world.
To accommodate this vast number of guests and firms, the show will occupy an exhibition space of 127,000 square metres, in a purpose-built temporary structure - the largest of its type in the UAE.
Gulfood will take place between February 8th and 12th in 2015 at the Dubai World Trade Centre (DWTC).
Trixie LohMirmand, senior vice-president of exhibitions and events at the DWTC, commented: 'A landmark celebration such as the 20th anniversary of Gulfood is an opportunity to reflect on the show's growth in both scale and stature over the past two decades, and to reiterate the role Gulfood continues to play in brokering significant partnerships and business deals between companies, corporations and countries around the world.'
The number of food and beverage outlets in the UAE is expected to double during the next four years, according to a recent report from Euromonitor, making food service and hospitality equipment a particularly pertinent sector of the exhibition.
In addition, guests and exhibitors alike will be able to attend a myriad of conferences and summits throughout the five-day event. The sixth annual Gulfood Awards - consisting of six categories and ten awards - will also be held next year, taking place on February 10th at Conrad Dubai.
One of the event's biggest draws for the region's top chefs, pastry chefs, cooks and bakers is the annual Emirates Culinary Guild International Salon Culinaire, which sees more than 1,000 professionals being evaluated by a panel of 25 experts.
The competition, which will be held at the Za'abeel Pavilion, is mandated by the World Association of Chefs Societies to judge culinary events across the globe.
Events such as these demonstrate Dubai's position as a place of excellence for conferences and exhibitions, with this tourism sector growing rapidly within the emirate.