Golf course coming to DWC airport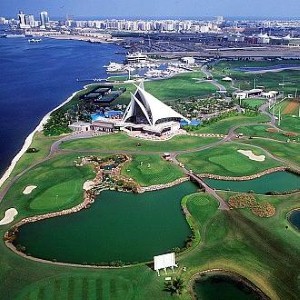 Dubai World Central (DWC) is offering golf enthusiasts one more reason to visit the city as it is set to feature its own course.
This is part of a larger development of over 13 million square miles in size announced for the airport, which includes a shopping mall, business hub and various leisure attractions.
Dubai Aviation City Corporation's chairman Sheikh Ahmed Bin Saeed Al Maktoum said: 'In the coming future, DWC will witness several new projects to build an integrated city.'
DWC is also well situated for Expo 2020, with Al Maktoum passenger terminal providing closer access than the older Dubai International Airport.
Al Maktoum has the capacity for 160 million passengers a year. In comparison, 25 million people are expected to enter the city for the Expo, so the hub is more than capable of supporting this influx.
Executive chairman for Dubai Aviation City Corporation Khalifa Al Zafein said: 'DWC is committed to delivering the vision of the UAE's leadership to astonish the world through the World Expo 2020. The new lifestyle development in Dubai World Central will be a significant addition to the city's residential, retail and hospitality infrastructure.'
As such, the scheme is one of the first to be designed in accordance with the Expo's theme of 'Connecting Minds, Creating the Future'.
This includes three sub-categories of mobility, opportunity and sustainability. The latter will be prominent in the design, which will feature energy-efficient building technology and modern green building methods.
As for mobility, additional transport infrastructure will also be implemented to offer connectivity across this part of Dubai, adding to the links already established to and from the city itself.
Alongside simply supporting the growing number of visitors, this development will also add to the thriving golf community in the sheikhdom.
Dubai already has a number of courses, including Jebel Ali and Dubai Creek.